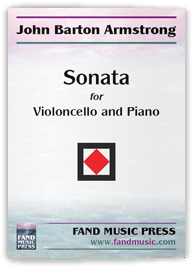 Sonata
for 'Cello and Piano
This product has a total of 4 review excerpts; reload the page to see other quotations at random or take a look at all the reviews of this publication.
[John Barton Armstrong's] darkly eddying Cello Sonata is a massive musical statement running over half an hour in a single unbroken span. He pulls no punches. The progress of the music encompasses some dramatic dissonance but the predominant voice is subtle, melodic and ultimately moving.
—Rob Barnett, MusicWeb International (August 2016)
It is a closely argued work built up in substantial sections … this is music which is constantly searching and journeying, with a sense of direction and purpose…
—Krzysztof Stasiak, MusicWeb International
The Sonata for 'Cello and Piano is a long single-movement work written in 1981 for the 'cellist Pamela George. Alongside his symphonies and the opera Hamlet, the 'Cello Sonata is one of John Barton Armstrong's most important works. It was first performed at St John's, Smith Square on 14th May 1987 by Markus Stocker and Michael Dussek. The same duo gave the first broadcast performance in February 1988 on BBC Radio 3. The work has now received its first commercial recording, by Lionel Handy and Nigel Clayton, on the CD From Bohemia to Wessex (available from Fand).
Sample pages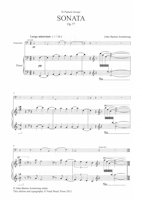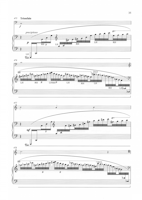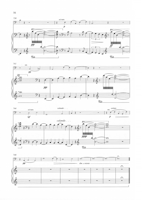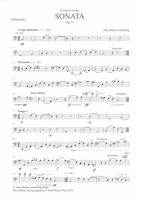 (Click to enlarge)
Composer
Title
Grade
Forces
Total duration
John Barton Armstrong

Sonata




for 'Cello and Piano

8
'Cello, Piano
30 mins
Composer
Movement
Forces
Duration

John Barton Armstrong

Largo misterioso – Più mosso – Molto cantabile – Trionfale – Con brio – Pastorale
'Cello, Piano
30 mins
Recorded performance
Markus Stocker, cello, Michael Dussek, piano
Please note that the performance extract presented here is by the original performers of the work, taken from the radio broadcast.
A further sample of the work is available on the page for the CD by Lionel Handy and Nigel Clayton, From Bohemia to Wessex: Cello Music from the Twentieth Century.
Catalogue code: FM175 • Published: May 2012
Entry last updated: 4th May 2014