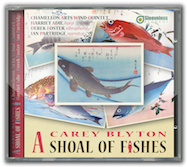 Carey Blyton – A Shoal of Fishes
featuring the Chameleon Arts Wind Quintet with Harriet Adie, harp, Derek Foster, vibraphone and Ian Partridge, narrator
This product has a total of 9 review excerpts; reload the page to see other quotations at random or take a look at all the reviews of this publication.
Before I had even played any of the music, I realised at once that this was a 'quality item'. The presentation box, the booklet and the explanatory notes all combine to make it a very attractive publication for potential buyers.
—Frank Bayford, composer (private correspondence)
The music speaks of a salubrious and dignified creative imagination. Carey Blyton knew music's art and craftsman's measure and wrote nothing ugly or dull or at odds with art or craft.
—Rob Barnett, MusicWeb International (December 2016)
Fand Music Press has played a big part in the production of this CD of world première recordings of music by Carey Blyton. Produced on the Sleeveless Records label in collaboration with the Carey Blyton Trust, this new CD is a really premium-quality production.
In common with other recent issues produced in association with Sleeveless (BAX: Works for Cello and Piano and From Bohemia to Wessex), the new CD is another particularly high-quality affair: it includes a lavish 16-page full-colour booklet and top-quality presentation throughout (see sample images and track samples below). As much of the music on the CD is based on the artwork of Hiroshige, the design of the CD's physical presentation is also based on his watercolours.
Sample pages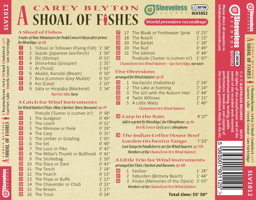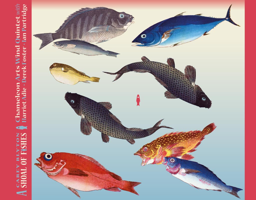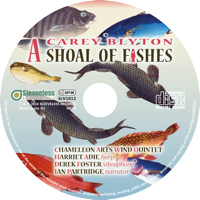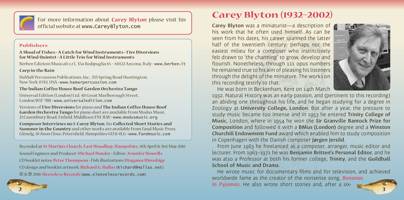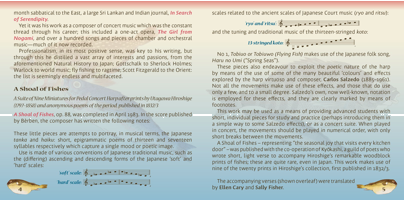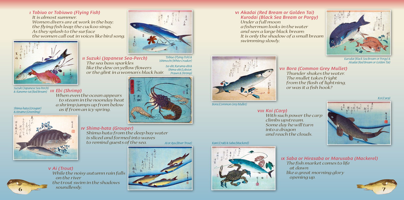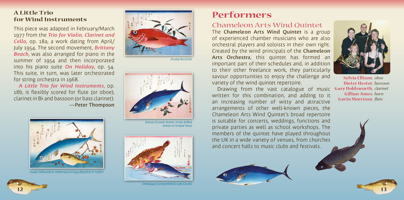 (Click to enlarge)
Composer
Title
Performer(s)
Total duration
Carey Blyton

Carey Blyton – A Shoal of Fishes




featuring the Chameleon Arts Wind Quintet with Harriet Adie, harp, Derek Foster, vibraphone and Ian Partridge, narrator

Derek Foster, Vibraphone,
Harriet Adie, Harp,
Members of the Chameleon Arts Wind Quintet,
Chameleon Arts Wind Quintet,
Ian Partridge, Narrator
00:55:50
#
Composer
Work
Movement
Performer(s)
Duration
1

Carey Blyton

A Shoal of Fishes (after prints by Hiroshige)

1: Tobiuo or Tobiuwo (Flying Fish)
Harriet Adie, Harp
00:01:38
2
2: Suzuki (Japanese Sea-Perch)
00:01:30
3
3: Ebi (Shrimp)
00:00:55
4
4: Shima-hata (Grouper)
00:01:35
5
5: Ai (Trout)
00:01:01
6
6: Akadai, Kurodai (Bream)
00:00:50
7
7: Bora (Common Grey Mullet)
00:00:55
8
8: Koi (Carp)
00:01:10
9
9: Saba or Hirasaba (Mackerel)
00:01:34
10

A Catch for Wind Instruments

Prelude ('Sumer is icumen in')
Chameleon Arts Wind Quintet,
Ian Partridge, Narrator
00:00:58
11
1: The Gudgeon
00:00:49
12
2: The Loach
00:00:51
13
3: The Minnow or Penk
00:00:29
14
4: The Carp
00:00:35
15
5: The Umber or Grayling
00:01:05
16
6: The Eel
00:00:49
17
7: The Luce or Pike
00:00:42
18
8: The Miller's Thumb or Bullhead
00:00:41
19
9: The Sticklebag
00:01:10
20
10: The Dace or Dare
00:00:43
21
11: The Tench
00:01:18
22
12: The Pearch
00:00:53
23
13: The Pope or Ruffe
00:01:12
24
14: The Chavender or Chub
00:00:33
25
15: The Bream
00:01:17
26
16: The Trout
00:00:54
27
17: The Bleak or Freshwater Sprat
00:00:23
28
18: The Roach
00:01:53
29
19: The Barbel
00:01:18
30
20: The Rud
00:00:49
31
21: The Salmon
00:00:44
32
Postlude ('Sumer is icumen in')
00:01:07
33

Five Diversions

1: Vacilación (Habañera)
Chameleon Arts Wind Quintet
00:02:54
34
2: The Lake at Evening
00:02:14
35
3: The Girl with the Auburn Hair
00:02:44
36
4: Twilit Willows
00:02:15
37
5: A Little Waltz
00:01:40
38

Carp in the Rain

Carp in the Rain (after a print by Hiroshige)
Derek Foster, Vibraphone
00:04:27
39

The Indian Coffee House Roof Garden Orchestra Tango

The Indian Coffee House Roof Garden Orchestra Tango: Last Tango in Pondicherry
Members of the Chameleon Arts Wind Quintet
00:01:53
40

A Little Trio for Wind Instruments

1: Fanfare
00:01:28
41
2: Faburden (Brittany Beach)
00:01:44
42
3: Finale (Memories of the Opera)
00:02:03
Catalogue code: SLV1012 • Published: 22nd September 2016
Entry last updated: 16th October 2016