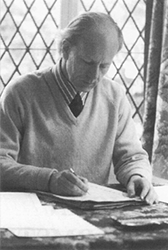 John Barton Armstrong
[1923–2010]
(nom de plume: Barry Armstrong)
I would like to see his music played as much as possible.
—Edmund Rubbra
John Barton Armstrong was a child prodigy at playing by ear and improvising, and was hailed by his school headmaster, at age 12, as someone who could keep the entire school entertained by his improvising on the piano. At age 17, to great acclaim from his schoolteachers, he single-handedly composed an operetta, wrote all the verses and dialogues, produced it, and acted and sang in it.
After such a promising early start, the War intervened and Armstrong joined the Navy; the Admiralty sent him to Cambridge to study electronic engineering, which, besides music, was another passionate interest. At Cambridge he met Herbert Howells, who expressed amazement at how far Armstrong had progressed, musically, on a self-taught basis.
After the war, Armstrong read Law and was called to the Bar, but in 1951 went to work for Vickers-Armstrongs Ltd on aeronautical design (eventually ending up in the project design team of Concorde). However, he left Vickers-Armstrongs in 1964 to pursue a music degree at Durham University, from which point he stuck primarily to a musical career. Armstrong also took a great interest in politics, however, being chairman of the Yateley Young Conservatives in 1947 and putting up as a candidate for the House of Commons (but coming second) in the mid-1970s.
Armstrong was a remarkable polymath who wrote huge amounts of music throughout a life that encompassed several varied careers in a variety of fields, though he left many compositions unfinished. He wrote a great deal of piano music in particular, finding the task excessively straightforward: "It's too easy: you sit down and improvise something, and you just write it down."
Further information about John Barton Armstrong can be found on his Web page at Impulse Music.
---
Composer…
---
Author…
Author
Book
Published
Price

John Barton Armstrong

Composer Interviews no 2


John Barton Armstrong, interviewed by Peter Thompson




ISBN 0-9535125-6-8

2007
£7.00


Barry Armstrong

The Missing Music Mystery


An unusual and provocative enquiry into the present state of British Music




ISBN 0-9535125-5-X

April 2003
£7.00


Barry Armstrong

The Riddle of Schoenberg


An Open Letter




ISBN 0-9535125-0-9

2007
£7.00