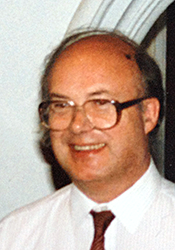 David Llewellyn Green
[1935–2014]
David Llewellyn Green was born in Newport, the only child of William and Alice Green, and grew up in London and Wales (where he was a wartime evacuee). After his years at school he became a student at the Royal Academy of Music, where he was awarded several prizes and diplomas. Following a period of National Service in the Coldstream Guards he later went on to pursue his musical studies further, gaining a Bachelor of Music degree from Durham University in 1970 and later a Master of Music in Composition from Bristol University in 1977.
David spent much of his career as a teacher, beginning his schoolteaching career at Leyton Grammar School before being appointed Head of Music at Bishop Auckland Technical College, County Durham. After three years in that role he was appointed as a lecturer at Gypsy Hill Teacher Training College, which later became Kingston Polytechnic and then finally Kingston University. Here he spent nearly 20 years until taking early retirement. At this point he experienced what he later considered the happiest period of his working life, first spending some time in India, where he was involved in setting up the Darjeeling School of Music, then spending several years globetrotting as an examiner for Trinity College of Music.
David had close involvements with the Church of England, first as organist of Christ Church, Lancaster Gate, London, and later as organist of St Mary's Church, Horsell. In London he directed a semi-professional choir and presided over a huge four-manual Walker organ. It was during his time here that David met his wife, Judith; they married in 1958 and had three children: Gareth, Nicola and Sandy. Later, at Horsell, David built up a massive amateur church choir and was responsible for installing a brand-new Hill, Norman and Beard organ—one of his proudest professional achievements.
Beyond his professional and private musical engagements, David spent a lifetime honing his skills as a composer, leaving a substantial body of works of many types. He produced a substantial amount of keyboard music and choral works, together with a great deal of chamber music for various instruments. His work ranged from the small-scale, such as a couple of school songs from his time in India, to the substantial, including his Symphony.
David was a keen gardner and DIY enthusiast, and enjoyed dinghy sailing as a hobby. Throughout adult life he was also a devoted Freemason, serving in a variety of offices, culminating in his periods as Master of the Woking Lodge. He was also a member of the St Cecilia Lodge for Musicians, and he served both Lodges as Chapter Organist.
Regrettably, during the last three decades of his life, David was afflicted ever more seriously with Parkinson's Disease, which finally robbed him of his physical ability to compose by the late 1990s. Nevertheless, he left behind a substantial body of work, of which the selection below represents only a sample. Much of his output was published through the now-defunct Oecumuse publisher, and he also self-published a number of items as Brook Music.
---