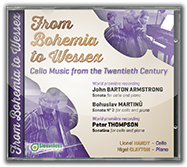 From Bohemia to Wessex
Cello Music from the Twentieth Century
Lionel Handy, cello & Nigel Clayton, piano
Various composers
This product has a total of 15 review excerpts; reload the page to see other quotations at random or take a look at all the reviews of this publication.
This far from hackneyed collection of cello sonatas is well performed and presented and is all the more welcome for leaning towards the provocative.
—Rob Barnett, MusicWeb International (August 2016)
[John Barton Armstrong's] darkly eddying Cello Sonata is a massive musical statement running over half an hour in a single unbroken span. He pulls no punches. The progress of the music encompasses some dramatic dissonance but the predominant voice is subtle, melodic and ultimately moving.
—Rob Barnett, MusicWeb International (August 2016)
Fand Music Press is delighted to have played a major role in the inception of the latest CD from the highly acclaimed cello and piano duo of Lionel Handy and Nigel Clayton, featuring a couple of world-première recordings of music published by Fand.
The meatiest work on the disc is the monumental Cello Sonata of Fand composer John Barton Armstrong. This rarely-performed masterpiece, which the composer considered to be one of his most important works, has occasionally been heard in radio broadcasts, but is receiving its first commercial recording on this CD.
The second piece to receive its first recording on this CD is by another Fand composer, Peter Thompson: his Cello Sonatina was written, coincidentally, in the same year as the Barton Armstrong Sonata (1981).
Finally, the third work on the CD is the Cello Sonata no 2 by Bohuslav Martinů; Lionel Handy and Nigel Clayton have already recorded his Sonata no 1 on a previous CD. The Cello Sonata no 2 is a stylistically pivotal work, being one of the first pieces written by Martinů after his arrival in America.
The CD itself is another particularly high-quality production: it shares a similar presentation to its preceding disc, BAX: Works for Cello and Piano, including a lavish 12-page full-colour booklet and top-quality presentation throughout (see sample images and track samples below). A must for anyone who bought the companion Bax CD!
---
Peter Thompson's Cello Sonatina, as recorded on this CD, has generously been made available, with suitable accompanying imagery, as a set of videos on YouTube, as presented below:
Thompson: Cello Sonatina (CD tracks 5–7 in a playlist)
---
Sample pages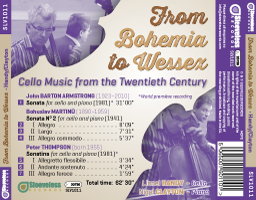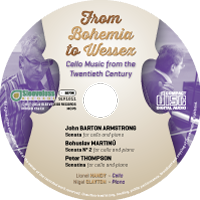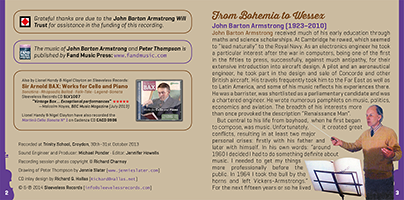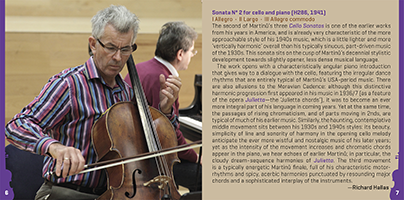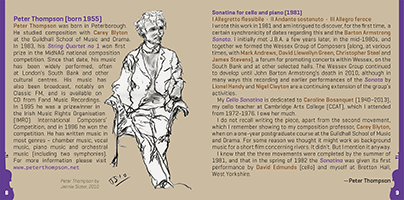 (Click to enlarge)
Composer
Title
Performer(s)
Total duration
Various

From Bohemia to Wessex




Cello Music from the Twentieth Century




Lionel Handy, cello & Nigel Clayton, piano

Lionel Handy, 'Cello,
Nigel Clayton, Piano
01:02:30
#
Composers
Work
Movement
Performer(s)
Duration
1

John Barton Armstrong

Sonata for cello and piano (1981)

Lionel Handy, 'Cello,
Nigel Clayton, Piano
00:31:00
2

Bohuslav Martinů

Sonata no 2 for cello and piano (H286, 1941)

I: Allegro
00:08:09
3
II: Largo
00:07:31
4
III: Allegro commodo
00:05:37
5

Peter Thompson

Sonatina for cello and piano (1981)

I: Allegretto flessibile
00:03:34
6
II: Andante sostenuto
00:04:24
7
III: Allegro feroce
00:01:59
Catalogue code: SLV1011 • Published: 7th May 2014
Entry last updated: 4th May 2014