February 2018:
Higginson and Thompson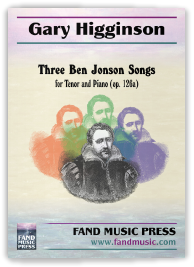 In August 1995, Gary Higginson wrote Three Ben Jonson Songs for tenor and piano, mostly for himself to sing in various concerts that he was giving at the time. Fand published them soon after. But now, with a new CD of his works due to be recorded later in 2018, containing songs and solo flute music, he felt he wanted these songs to be sung by a baritone whilst also hoping that a new transposition would open them up to a wider range of voices. Fand is delighted to issue this new baritone edition whilst still stocking the original version for tenor.
At the same time, we publish Two Pieces for Solo Flute by Gary Higginson. The first of them, Landscape, although down as Opus 62, was partly composed whilst Gary was still at school. It was enlarged and revised many years later and a new piece was composed to go with it, Sweet Song of the Summer Woods. Both pieces were initially performed by Gary in various concerts in the 1970s and '80s.
Also new to the Fand catalogue this spring comes a pair of little pieces for piano solo: Two Wildflowers by Peter Thompson, written whilst scoring his recently completed Fourth Symphony.
---
August 2017:
John Mitchell: Thomphoonery!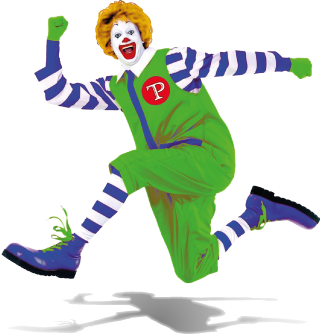 John Mitchell is a house composer for Modus Music, who publish the majority of his works. Fand Music Press is therefore delighted to be permitted to publish this saucy number from the main table. Listen to John Meccanico's performance at the composer's ideal tempo of minim = 138, buy the music and have a go…
---
July 2017:
Dispensing Suites!
Peter Thompson: Suite no 10 for Piano
Fand Music Press is pleased to announce the publication of something of a milestone: the tenth in the series of piano suites by Peter Thompson. Suite no 10 is a set of five characterful movements, each lasting around a couple of minutes, aimed at competent to advanced pianists. Moods range from the contemplative to the exuberant, but the entire suite is in Thompson's approachable, energetic and harmonically spicy style. Overall, this is a joyous and entertaining set.
Frank Bayford: Dispensing Notes (Autobiography)
Fand is also privileged to publish the autobiography of composer Frank Bayford. A pharmacist by trade (one of two Fand composers to pursue this profession), the multitalented Mr Bayford is not only an accomplished self-taught composer but also a talented artist, and several of his drawings and watercolours illustrate the book. Dispensing Notes: Stepping-Stones towards an Autobiography is a 100-page volume that tells the compelling story of Frank Bayford's Enfield-based life and music.
---
January 2017:
Peter Thompson: A Red, Red Rose
The first new Fand publication of 2017 is a choral (SATB) setting of the well-known poem by Robert Burns, My love is like a red, red rose. Called simply A Red, Red Rose, this gentle setting has already received a concert performance from Philip Mead's choir, the St Augustine's Singers, as noted in this month's Friends of Fand news. The video of the performance can be found on the product page.
Friends of Fand
October 2017:
Fand Music in three Cambridge Choral Concerts
Three concerts in Cambridge will be featuring Fand composers Philip Mead and Peter Thompson.
As well as more traditional fayre, St Augustine's Singers with Cambridge Brass will be performing Mead's Christmas Bells and Thompson's Carol. In addition, in two of the concerts the Singers will be performing Philip Mead's newly composed A Child is Born (2017).
8th December, 6:30 pm
Christmas Songs and Carols, including Mead's Christmas Bells and Thompson's Carol.
St Augustine's Singers with Philip Mead, keyboard.
9th December, 6 pm
800th anniversary celebrations; see below for programme information.
16th December, 1 pm
Michaelhouse Lunchtime Carol Concert
The concerts on 9th and 16th December share the same programme:
Mead

A Child is Born

(new work, 2017)

Purcell

Man that is born of a woman

Handl

Resonet in Laudibus

Thompson
Carol

Prætorius

In dulci jubilo

Ives

Carol

Mead
Christmas Bells

Trad.

Ding Dong Merrily on High

Brandvick

A Yorkshire Wassail
St Augustine's Singers conducted by Philip Mead with Cambridge Brass and a peal of bells.
---
January 2017:
The Yorkshire Shepherds—First performances
Last year, Fand published The Yorkshire Shepherds by Richard Hallas, a light-hearted medley on While Shepherds Watched their Flocks by Night written for a concert given by The Huddersfield Singers in December 2016. The piece was also taken up by the St Augustine's Singers in Cambridge and performed later in the same month.
We are pleased to be able to present recordings of both performances. The Huddersfield Singers' première (which includes audience participation at the end) is a stereo audio-only recording made on 3rd December 2016:

As for the second performance by Philip Mead's St Augustine's Singers, we have a video of it here on the Fand site and also on the Fand YouTube channel. Thanks once again to Dan Leighton for supplying the video and to the choir for permitting its performance to be shared in this way.
A Red, Red Rose
St Augustine's Singers also performed Peter Thompson's newly-published A Red, Red Rose at a concert on 12th November 2016, and again we are grateful to Dan Leighton for providing a video; we have taken the liberty of adding subtitles to it.