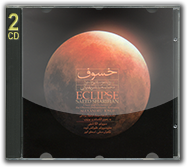 Eclipse – Saeed Sharifian
Islamic Oratorio
(2-CD pack)
Looking for an ambitious choral work that breaks free from the usual subjects? Try this: A sea-change into something imaginatively blessed and strange.
—Rob Barnett, MusicWeb International
It's intriguing that I hear nothing of the Westerner's Arabic cliché in this music. It is more Western 20th century but it's certainly not avant-garde.
—Rob Barnett, MusicWeb International
Eclipse is the first symphonic work based on a religious subject ever written in the 1400-year history of Islamic culture. It is a 103-minute oratorio in eight parts.
Background information
Eclipse is based on the tragedy of Ashura, which involves the slaughter of Emam Hossein, the third saint and the grandson of the Prophet Mohammad. In the second part of the first Islamic century (circa 650 AD), the whole Islamic civilization was governed, spiritually and politically, by the corrupt and unjust dynasty of Bani Omaie. Because of this situation, and out of despair and hardship, the people in their thousands requested in writing that Emam Hossein be their spiritual leader amd guide their just cause. Meanwhile, he left with a small caravan made up of his family and some followers for an annual pilgrimage to Mecca. While undertaking the hajj, Emam Hossein accepted this invitation from the people of Kufe and, leaving his hajj unfinished, made his way, with his caravan, towards the city of Kufe.
On the way, in a place called Karbala, he was met by a vast army of soldiers, many of whom were mercenaries who had originally invited him for their supposed just cause. This army presented him with two choices: either acknowledge in public the Khalife as the highest spiritual – and only – leader, or face death on the battlefield. Since there was no third choice, he accepted his destiny. Together with a very few men from his caravan, he faced a battle against a massive army. He was the last to be slaughtered, being brutally beheaded. The rest of the caravan, consisting of women and children, were savagely robbed of their belongings, their tents burnt, and finally, chained together and accompanied by the head of Emam Hossein on a spear, they were taken away as prisoners.
The events that took place during this period, and the injustice and extent of the savagery towards Hossein, his followers and finally his family, is what makes Ashura one of the most touching and tragic stories of love, death and faith.
This recording was made in Craiova (Romania) in 2007, mastered in Bucharest with Colin Iovakhinescu and in Saba Studio with Ghasem Abedin (Tehran), and released in Iran by Neydavood in 2008. The chorusmaster of the Oltenia Philharmonic Choir was Edward Man.
English explanatory notes are supplied with this CD, as its booklet is printed in Persian.
Composer
Title
Performer(s)
Total duration
M. S. Sharifian

Eclipse – Saeed Sharifian




Islamic Oratorio




(2-CD pack)

Olga Emanuela Sěin, Soprano,
Florence Lippett, Mezzo-soprano,
Eshagh Ancar, Persian traditional singer,
Oltenia Philharmonic Choir and Orchestra,
Alexandru Iosub, Conductor
01:43:32
#
Composer
Grouping
Work
Movement
Performer(s)
Duration
1

M. S. Sharifian

CD 1

Eclipse

Introduction
Olga Emanuela Sěin, Soprano,
Florence Lippett, Mezzo-soprano,
Eshagh Ancar, Persian traditional singer,
Oltenia Philharmonic Choir and Orchestra,
Alexandru Iosub, Conductor
00:10:21
2
Caravan Moving Towards Mecca
00:10:37
3
Pilgrimage
00:06:39
4
Caravan Moving Towards Karbala
00:11:02
5

CD 2

Tasua (Day of Dialogues)
00:23:03
6
Meditation
00:10:21
7
Ashura (The Battle)
00:16:18
8
The Sunset After
00:15:11
Catalogue code: EclipseCD • Published: November 2010
Entry last updated: 29th May 2011