February 2018:
Higginson and Thompson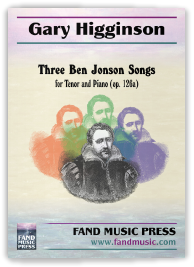 In August 1995, Gary Higginson wrote Three Ben Jonson Songs for tenor and piano, mostly for himself to sing in various concerts that he was giving at the time. Fand published them soon after. But now, with a new CD of his works due to be recorded later in 2018, containing songs and solo flute music, he felt he wanted these songs to be sung by a baritone whilst also hoping that a new transposition would open them up to a wider range of voices. Fand is delighted to issue this new baritone edition whilst still stocking the original version for tenor.
At the same time, we publish Two Pieces for Solo Flute by Gary Higginson. The first of them, Landscape, although down as Opus 62, was partly composed whilst Gary was still at school. It was enlarged and revised many years later and a new piece was composed to go with it, Sweet Song of the Summer Woods. Both pieces were initially performed by Gary in various concerts in the 1970s and '80s.
Also new to the Fand catalogue this spring comes a pair of little pieces for piano solo: Two Wildflowers by Peter Thompson, written whilst scoring his recently completed Fourth Symphony.
August 2017:
John Mitchell: Thomphoonery!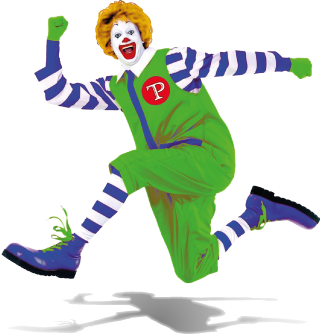 John Mitchell is a house composer for Modus Music, who publish the majority of his works. Fand Music Press is therefore delighted to be permitted to publish this saucy number from the main table. Listen to John Meccanico's performance at the composer's ideal tempo of minim = 138, buy the music and have a go…
July 2017:
Dispensing Suites!
Peter Thompson: Suite no 10 for Piano
Fand Music Press is pleased to announce the publication of something of a milestone: the tenth in the series of piano suites by Peter Thompson. Suite no 10 is a set of five characterful movements, each lasting around a couple of minutes, aimed at competent to advanced pianists. Moods range from the contemplative to the exuberant, but the entire suite is in Thompson's approachable, energetic and harmonically spicy style. Overall, this is a joyous and entertaining set.
Frank Bayford: Dispensing Notes (Autobiography)
Fand is also privileged to publish the autobiography of composer Frank Bayford. A pharmacist by trade (one of two Fand composers to pursue this profession), the multitalented Mr Bayford is not only an accomplished self-taught composer but also a talented artist, and several of his drawings and watercolours illustrate the book. Dispensing Notes: Stepping-Stones towards an Autobiography is a 100-page volume that tells the compelling story of Frank Bayford's Enfield-based life and music.
January 2017:
Peter Thompson: A Red, Red Rose
The first new Fand publication of 2017 is a choral (SATB) setting of the well-known poem by Robert Burns, My love is like a red, red rose. Called simply A Red, Red Rose, this gentle setting has already received a concert performance from Philip Mead's choir, the St Augustine's Singers, as noted in this month's Friends of Fand news. The video of the performance can be found on the product page.
October 2016:
Shoal of Fishes CD update
As promised in last month's early announcement of the new Carey Blyton CD, the disc has now been added to the Fand catalogue and has its own page with detailed track listing and sample tracks, together with sample pages from the deluxe CD packaging.
September 2016:
New Carey Blyton CD
We are excited to announce that we have just taken delivery of a new CD of world première recordings of music by Carey Blyton. Produced on the Sleeveless Records label as a collaboration between the Carey Blyton Trust and Fand Music Press, this new CD is a really top quality production from all points of view.
Performers on the CD are the Chameleon Arts Wind Quintet; Harriet Adie, harp; Derek Foster, vibraphone; and Ian Partridge, narrator.
Music on the CD is as follows (all world première recordings):
A Shoal of Fishes

A Catch for Wind Instruments

Five Diversions

Carp in the Rain

The Indian Coffee House Roof Garden Orchestra Tango

A Little Trio for Wind Instruments
The physical CD is a deluxe production with an attractive 'picture disc' label, full colour inlays throughout and a 16-page full-colour booklet that includes extensive music notes (including the composer's own commentary on several pieces), the text of the poems that inspired some of the music, and ample illustrations of the Hiroshige watercolours portrayed by some of the musical settings.
The CD will, of course, soon be added to the Fand catalogue and will be listed on this site with a detailed information page and sample tracks as usual. In the meantime, you can order the CD by clicking the Add to Cart button above. The price is £10·99 + P&P.
July 2016:
Choral Delights
Fand presents a selection of choral pieces as its latest batch of releases – all by composers new to the Fand catalogue. The new publications are available for purchase immediately.
First of all, we are delighted to welcome J. Alex Whyte to the catalogue. A man of multiple talents, and already the author of a number of humorous books (try reading his biography for a taste of his writing style), his first Fand publication is a cantata, set to his own text, called For Unbelievers. The composer has even used his graphical talents to create the cover illustration.
For Unbelievers is a highly attractive and uplifting work. The text is non-specific and open to multiple interpretations; although not overtly religious, it nevertheless conveys a sense of the value of faith and a broad hope for peace. In the composer's words, "It was written as an invitation to think things over. And perhaps come to a decision."
The cantata is for SATB choir with a soloist of each voice part, and has been published in two new editions: the intended original scoring with chamber orchestra and an alternative version with piano accompaniment. The two versions are 'compatible' in that the choir & piano score serves both as a performable work in its own right and as the choir and soloists' part for the version with orchestral accompaniment. So, in situations where an orchestra is not available, a satisfactory performance can still be staged.
The work has already been performed on several occasions, but with an earlier orchestral scoring. For its Fand publication, the piece has been revised by a former pupil of the composer, Julian Cole, who has improved the orchestration and written the new piano accompaniment (with the composer's full approval).
Although intended as a serious work, we feel that this piece, given its highly tuneful and attractive nature, very straightforward musical material and positive sentiments, would make an ideal work for performance by youngsters, within schools or youth choirs etc.
English and Welsh traditions
The second person to join the Fand ranks this month is Richard Hallas. Richard has, in fact, a very long-term involvement with Fand already; as KeyNote, he has typeset many Fand editions since the early 1990s, and he is the named editor on several of Fand's early Bax editions. Moreover, he has been Fand's Webmaster since 2010 and is responsible for the presentation style of most of Fand's more recent publications. He now joins the Fand ranks at last as a composer/arranger with the following two items:
Written for a specific choir and a specific concert (The Huddersfield Singers' A Yorkshire Christmas event on 3rd December 2016), The Yorkshire Shepherds was created for a very specific purpose. However, during its creation, it became apparent that it had the potential to be of much greater interest than just something for a one-off performance, so efforts were made to maximise its appeal and flexibility – with the result that it can be performed in several ways, and provides the scope for optional audience participation within the context of a Christmas concert.
The Yorkshire Shepherds is, in fact, a setting of the text of While Shepherds Watched their Flocks by Night, to a range of traditional Yorkshire melodies. The tune that 'everyone' knows for this carol is called Winchester Old, and is actually used in fragmentary form in the accompaniment of this new setting. It may also optionally be sung at the end, if audience participation is desired. However, the main piece uses four alternative melodies, all of which are very popular in the Yorkshire region. A strong generations-old carolling tradition exists in the area of Yorkshire between Sheffield and Holmfirth, and the people of this area still regularly sing While Shepherds Watched to a dozen or so well-established melodies. This new piece celebrates the Yorkshire carolling tradition by taking four of the most popular of those regional melodies and setting a verse of the carol to each of them in a new concert arrangement.
The piece is intended to be light-hearted without being silly. The audience may smile in surprise as the choir enters to the well-known tune of On Ilkla Moor Baht 'At – yet this is actually authentic, as this carol was sung to this tune before the familiar 'Ilkley Moor' words were even written.
The music is for SATB choir with either piano or organ accompaniment, and a choice of three different ways of ending the piece (one of which involves audience participation) is available for use as circumstances dictate. Overall, then, this is a fun item that could be used as a concert highlight or perhaps an encore.
Finally, moving from Yorkshire to Wales…
This new setting of the traditional Welsh lullaby Suo Gân aims to provide an attractive version for four-part choral use. The melody was made famous particularly through its memorable use in the early Steven Spielberg war film, Empire of the Sun.
Sung to a lilting accompaniment (which will require a pianist with a fairly light touch), the first verse may be performed by a solo soprano or treble (or a small semichorus), and the rest of the song is sung by the four-part choir. Aside from the need for careful tuning in the chromatic third verse, the straightforward musical setting should put this song easily within the grasp of amateur choirs, and the generally sonorous nature of the arrangement should, we hope, make it an audience-pleaser.
Easter 2016:
Fill the Mead cup…
Easter may seem an unusual time to publish a Christmas carol, but never mind; it's in plenty of time for the next festive season!
With Christmas Bells, Fand Music Press is delighted to welcome Philip Mead to its list of published composers. Philip is known primarily as a concert pianist who specialises in modern repertoire, and is a longstanding 'Friend of Fand', having performed many of Peter Thompson's piano pieces over the years. Indeed, near the end of 2015 Philip gave a piano recital featuring the music of Bax and Thompson, most of it published by Fand, and even more recently his chamber choir premièred Peter's arrangement of The Keys of Heaven.
However, Philip is now making his Fand debut as a composer, and presents us with not just the music of Christmas Bells but also an audio recording of a recent performance of the piece, given by the chamber choir that he conducts. This highly attractive new carol, featuring a memorable melody, is written for four-part SATB choir (with divisi) and a choice of piano, organ or (ideally) brass ensemble accompaniment. The style of the accompaniment (especially when played by the brass ensemble of two trumpets and two trombones) evokes, as suggested by the title, the sound of chiming and later pealing bells.
March 2016: Bax arr. Mitchell: Pensive Twilight
Last November, Fand Music Press published John Mitchell's piano arrangement of Sir Arnold Bax's Dance in the Sun, the second movement of the unpublished Four Orchestral Pieces of 1912–13.
This is now being followed up by a companion piece, Pensive Twilight: a new arrangement of the first movement of the Four Orchestral Pieces. The Four Orchestral Pieces were first performed in their original version in March 1914, so this piano arrangement appears on the 102nd anniversary, to the month, of that event. Bax subsequently revised the work in 1928, omitting the last movement and renaming the others while revising them; thus, Pensive Twilight later became Evening Piece.
John Mitchell's arrangement is of the original version and hence bears its original title. As with Dance in the Sun, the arrangement attempts to present Bax's music faithfully in a pianistic way, and is aimed at advanced pianists.
December 2015:
Bax's Scherzo for Piano
Fand's final release of 2015 is an exciting and important one: the first edition of Sir Arnold Bax's Scherzo for piano, edited and typeset by leading Bax authority Graham Parlett. A work of significant length and considerable technical demands, it represents a stimulating challenge to advanced pianists.
The precise origins of the Scherzo are unknown: completed in 1913, it was clearly marked as being the second movement of an otherwise unknown Piano Sonata; it may possibly be part of Bax's lost Sonata in D minor. Bax orchestrated the score in 1917, in which form it received a couple of performances, and he also created a truncated arrangement for pianola roll, released in 1921, in which form the piece apparently enjoyed significant popularity. Some time later, in 1933, Bax produced a revised orchestral version under the title Symphonic Scherzo, and this version of the work was recorded by Chandos in 1986.
As for this original piano version of the piece, the first known performance – from the manuscript – took the form of a recording made by Malcolm Binns for a Pavilion Records LP in 1981. The score itself has never previously been published, and Fand is delighted to finally bring it to light.
7th November 2015:
Peter Thompson's Symphony no 3
We are pleased to announce the publication of Peter Thompson's Symphony no 3. It is in three movements and is now available to purchase both as an A4-sized study score and in a wire-bound A3 Conductor Score. Separate parts will be available in due course.
Bax arr. Mitchell: Dance in the Sun
Fand Music Press continues its pioneering efforts with the music of Sir Arnold Bax by publishing a new piano version of his Dance in the Sun, arranged by John Mitchell.
Dance in the Sun is the second of Four Orchestral Pieces that Bax wrote in 1912–13; it was performed once in 1914 and then neglected for a century! In the meantime, Bax revived three of the four movements in 1928 as Three Pieces, transposing this movement and renaming it Dance in the Sunlight.
For this new piano arrangement, John Mitchell has gone back to the original version of the Dance in the Sun score, which has recently been edited by Bax authority Graham Parlett. John's arrangement is typically pianistic, and is aimed at advanced pianists; whilst presenting a technical challenge, it remains accessible to competent players and attempts to preserve as much as possible of Bax's score whilst allowing the music to be performed at its intended rapid pace on the piano.
6th November 2015:
Philip Mead Live in Concert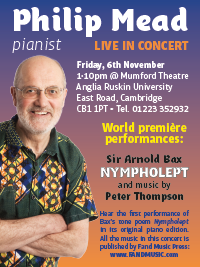 International concert pianist Philip Mead is giving an exciting free lunchtime concert in the Mumford Theatre, Anglia Ruskin University, Cambridge this November.
Philip is playing a highly innovative programme, comprising mostly world première performances, that should be of extreme interest to visitors to this site! Indeed, almost all of the music that Philip will be playing is published by Fand.
The highlight of the programme is the first performance of the original piano version of Sir Arnold Bax's tone poem Nympholept. Philip will also play Bax's Hill Tune.
The other composer represented in this performance is Peter Thompson, and Philip will be playing a total of four piano pieces by him, three of which are premières, including his recently published Soliloquy and Toccata.
The concert takes place on Friday, 6th November at the Mumford Theatre, Anglia Ruskin University, Cambridge, at 1·10 pm. Please visit the concert page for further information.
September 2015:
Gary Higginson's Inventions on a Theme of Carey Blyton
The latest issue from Fand Music Press is Gary Higginson's newly-written Inventions on a Theme of Carey Blyton for piano: a delightful tribute to Carey Blyton which, though skilfully simply written, nevertheless offers great scope for variety of expression, ranging from the wistful, through dancing gracefulness, bird calls and Blyton-esque humour, to the darker shades at the end – all unified by Carey Blyton's original folk-like melody. This charming work should suit pianists of intermediate ability; Grade 6 and up. Gary Higginson was a pupil, friend and champion of the works of Carey Blyton, and there is a further personal connection between the two in terms of the theme on which the Inventions are based.
May 2015:
Peter Thompson's Toccata
Fand Music Press is delighted to publish another new piano piece by Peter Thompson: his just-completed Toccata for Piano. This fast, exciting and flamboyant piece with intricate dance overtones should be highly rewarding material for competent pianists (Grade 8 and above).
Hail, Smiling Morn
Also new this month from Fand, unusually, is a new edition of a very well-known piece, beloved of choirs in the North of England in particular: Hail, Smiling Morn by Reginald Spofforth. This is arguably the most well-known and lastingly popular glee in the entire glee repertory, and although it has 'universal' words and is not inherently seasonal in any way, there is such a strong tradition of performing it at Christmas and Easter that people often consider it a carol. Nevertheless, it can be sung at any time of year.
The new Fand edition is an enhanced version of an edition published in the nineteenth century, and has been produced with amateur choirs in mind. It has also been priced accordingly, to make it affordable to often struggling groups. A characteristic of many amateur choirs today is a shortage of male singers to fill out the lower voice parts. This version of Hail, Smiling Morn recognises this problem and provides a single male-voice line that can be sung by tenors and/or basses (together with Soprano and Alto upper parts). Alternative upper and lower notes are provided for tenors and basses, but either or both may be sung and the male line is otherwise in unison.
The resulting three-part arrangement is still sufficiently harmonically full to be performed unaccompanied if desired. (The original glee was written for four unaccompanied male voices, with the top alto line being sung by one or more countertenors.) However, an optional piano part is also provided, and is a proper accompaniment rather than merely a reduction of the voice parts. It too fills out the harmony in places and provides further interest to the arrangement.
April 2015:
Peter Thompson's Soliloquy
The latest composition by Peter Thompson to be published by Fand Music Press is his newly written Soliloquy for Piano. This sonorously discursive piece for the competent pianist (Grade 8 and above) has already received a rave review by Murray McLachlan in the May/June 2015 issue of International Piano. As the reviewer notes, the music is sufficiently rich that it conveys an orchestral impression:
His four-page 'Soliloquy' for solo piano is intriguingly crafted, with strikingly original harmonic and contrapuntal movement that takes your fingers, if not your ears, by surprise. The colours and textures are orchestrally charged – yet the effects are achieved without bombast or excess. Beautiful, wistful music which makes considerable use of motivic variation techniques in only 112 bars. The music sounds like an orchestral transcription…
…yet this does not come at the cost of excessive technical difficulty:
…it is in fact a pleasure to play through, especially at the sustained chordal climaxes towards the end. Post-Grade 8 players in search of something different but not outlandish could really enjoy this. A quietly original piece that will give tactile as well as aural pleasure. I look forward to becoming familiar with more music from this underrated composer.
February 2015:
New 'Friends of Fand' feature
Regular visitors to this site may like to note the new Friends of Fand feature, now visible on this opening news page. An extension of our News system, we intend to use this new feature to draw attention to items that are tangentially related to Fand or, at least, of interest to Fand and its visitors.
So, please keep an eye on this page regularly for interesting updates, and if you know of anything that we should be aware of for the Friends of Fand section, do please get in touch with us!
Incidentally, just like our other news items, the Friends of Fand entries will be archived permanently in the News Archive, so they'll remain available even when they're too old to appear on the opening page.
We have also strengthened the connection with our new YouTube channel by embedding appropriate YouTube videos on all the relevant pages of the site (example CD page; example music page).
December 2014:
Peter Thompson's seasonal String Quartet no 6
Fand Music Press is rounding off 2014 by publishing a suitably seasonal string quartet. Although Peter Thompson's recent String Quartet no 6 has no overall title, it does feature a conspicuously wintery theme, with its four movements bearing the titles Day in November, Children's Games, December Sunlight and Chase. An energetic and engaging work, the movements alternate between impressionistic sound-pictures of winter months and more acrobatic representations of youthful exuberance.
15th September 2014:
Fand on YouTube (and social media)
Fand Music Press now has its own YouTube channel!
We intend to use this to promote particular music published by Fand, and hopefully also future events. The channel is being launched with three commercial recordings of music by Peter Thompson: the Marc Chagall Suite, the Bolinge Hill from Sketches & Fancies and Sonatina for Cello and Piano. Here are the YouTube playlists:
Each piece of music is accompanied by an attractive and appropriate video based on a still image. Please note also that the videos are all available in HD quality; just choose the quality setting you require from the pop-up menu at the bottom-right corner of the YouTube video.
In conjunction with this, Fand has also set up its own page on Google+, which links back both to this main site and to the Fand YouTube channel. Find our page here:
http://plus.google.com/+FandMusicPress
Two new buttons have been added to the Fand menu system – at the bottom-left top-right of the site – which, when clicked, will take the visitor to Fand's YouTube channel and Google+ page.
Also, since Fand has now started to connect with social media, a new tool has been added: a column of icons at the right of each page allows the visitor to share a page or product with their favourite social media service.
September 2014:
New Poetry Books
Fand is excited to announce the publication of two new books of poetry by two authors new to the Fand catalogue: Humanities by Julian Farmer and The Year by P. F. Owen.
Both books were released on 1st September and are available to buy now.
Thompson updates
There have also recently been two updates to existing works by Peter Thompson. Most significantly, he has adapted a new Romance for Clarinet in B♭ and Piano from his existing version for viola. Also, a new edition of his Five Elegiac Fragments for small orchestra has been printed. Musically unchanged, the new edition is available as an A3 conducting score and separate set of parts. (The original A4 study score remains available.)
April 2014:
New CD: From Bohemia to Wessex
Fand Music Press is delighted to have played a major role in the inception of the latest CD from the highly acclaimed cello and piano duo of Lionel Handy and Nigel Clayton, featuring a couple of world-première recordings of music published by Fand. The new CD is entitled From Bohemia to Wessex and is available to order now.
The meatiest work on the disc is the monumental Cello Sonata of John Barton Armstrong, here receiving its first commercial recording. The second piece to be premièred on this CD is Peter Thompson's Cello Sonatina, coincidentally written in the same year (1981). The disc is rounded off by Handy & Clayton's continuation of their recordings of the Cello Sonatas of Bohuslav Martinů: this time, number 2.
This is another extremely high-quality issue in a similar style to Handy & Clayton's previous Bax CD. Cello fans should snap it up for both its superb performances and its unique repertoire.
CD prices reduced
Fand would like to draw attention to the fact that it has recently more than HALVED the prices of its single CDs (including the new From Bohemia to Wessex recording). So, now is an excellent opportunity to buy the three previous Handy/Clayton recordings (plus any other CDs from the Fand catalogue, of course!):
March 2014:
Bax: The Happy Forest now available
As promised in last month's preview, The Happy Forest by Sir Arnold Bax is now available.
This exciting new release is the very first edition of the original piano version of a work that has hitherto been known only in its later orchestral incarnation. Originally composed as a piano solo, it has spent the last hundred years unknown to the public. It was completed on 13th May 1914, and Graham Parlett has now finished this first edition, which is being released in time for the work's centenary.
February 2014:
New Thompson • A Bax Preview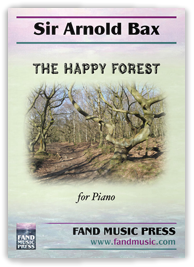 Fand is happy to announce the publication of the latest two new works by Peter Thompson.
Calydon Eclogue is a short, classically poetic study for unaccompanied violin on "Arcadian Atalanta, snowy-souled," as featured in Swinburne's tragedy, Atalanta in Calydon. Three Pieces is a triptych of slow, reflective and not difficult poems for piano.
Bax: The Happy Forest (preview)
At the same time, Fand is also extremely happy to be able announce the imminent release of the very first edition of Sir Arnold Bax's original piano version of The Happy Forest.
Although it is well-known as an orchestral work by Bax, The Happy Forest was originally composed as a piano solo. It was written for Herbert Farjeon, whose prose poem of the same name had inspired the piece. Bax decided to orchestrate it some time later, and the orchestral version became established, but the original piano piece remained unpublished until now.
Composition was completed on 13th May 1914, and Graham Parlett is currently putting the final touches to his first edition, which will be published in time for the work's centenary.
October 2013:
Bax Nympholept and more CDs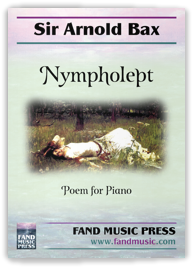 Fand's latest issue is another important and exciting one: the first edition of Sir Arnold Bax's Nympholept, a poem for piano.
The title Nympholept refers to a person who suffers from nympholepsy, a state of rapture inspired by nymphs; the music is based on a poem of the same name by Swinburne about panic induced by noonday silence in the woods.
Bax himself also wrote a poem of the same title a few months before composing the piano piece, and he later orchestrated the music. Neither the original piano piece nor the orchestral version was performed in his lifetime, however.
As may be expected from its title and subject matter, the piece is a typically rhapsodic Baxian offering, and is a work of some considerable substance, lasting for over 10 minutes and making considerable technical demands of the pianist.
Lionel Handy CDs
Though the following two CDs of cello works by Kodály and Carter/Messiaen/Martinů/Cutler are not Fand publications, we are delighted to stock and promote them to a wider audience. They join cellist Lionel Handy's most recent CD, BAX: Works for Cello and Piano, which was originally launched through Fand. These three CDs represent Lionel Handy's complete recordings to date.
Watch this space for a new CD from Lionel Handy and Nigel Clayton, featuring Martinů's Cello Sonata no 2, John Barton Armstrong's Cello Sonata and Peter Thompson's Cello Sonatina…
July 2013:
New Carey Blyton Site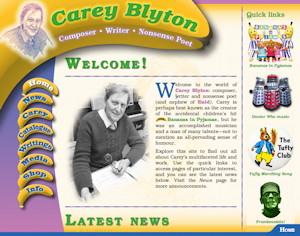 Admirers of Carey Blyton's work will be interested to learn of a completely new website, which has been created in place of the old one. Visitors will find a deeply searching porthole into the multifaceted work and world of Carey Blyton:
The creation of the site, the work of Richard Hallas, is an ongoing project and there is much scope, in terms of further development, for featuring Carey's media work as well as highlighting current news, but already a number of films can be viewed as well as sundry articles, stories, letters etc.
However, perhaps the most valuable part of the new site is the fully comprehensive catalogue. Here is detailed information on each of Carey's 111 opus numbers, together with his numerous other unnumbered works. Many of these works are still available and there are quick links to each publisher; further, there is now an online Shop where works and recordings can be instantly purchased. The Shop operates in partnership with Fand Music Press, and also offers Carey's publications from Modus Music.
There is much else, for the website is not only a focus for scholars but is very much in keeping with the humorous nature of much of Carey's work. The site is as friendly to the infant searching for news of B1 as it is to the venerable researcher seeking information concerning A Shoal of Fishes or Arnold and the Acorns!
Please visit www.careyblyton.com!
17th June 2013:
Commemorative Concert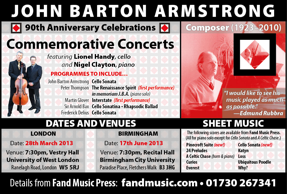 2013 is the 90th anniversary of composer John Barton Armstrong's birth, and a couple of commemorative concerts are being held, featuring his Cello Sonata and Peter Thompson's The Renaissance Spirit (in memoriam J.B.A.), along with the music of other British composers.
The second concert takes place on 17th June at the Recital Hall, Birmingham City University. The performers are:
Lionel Handy, cello
Nigel Clayton, piano
Please visit the concert page for further information.
June 2013:
Thompson: Dark Veils and March Hares
Fand is pleased to announce the publication of two new works by Peter Thompson.
Dark Veils, for low voice and piano, sets to music a poem by Felicity Cook whose brooding words nevertheless allow shafts of sunlight to break through. March Hares is a highly energetic, playful and rumbustious piano piece that depicts its subject matter in a most entertaining manner, and is suitable for intermediate to advanced pianists.
28th March 2013:
Commemorative Concert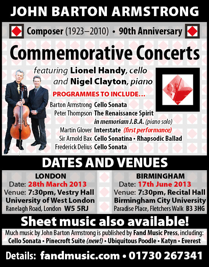 2013 is the 90th anniversary of composer John Barton Armstrong's birth, and a couple of commemorative concerts are being held, featuring his Cello Sonata and Peter Thompson's The Renaissance Spirit (in memoriam J.B.A.), along with the music of other British composers.
The first concert takes place on 28th March at the Vestry Hall, University of West London. The performers are:
Lionel Handy, cello
Nigel Clayton, piano
Please visit the concert page for further information.
Note: although initially advertised with a £7 ticket price, the decision has since been taken to make this concert FREE!
March 2013:
Updates
Peter Thompson's String Quartet no 2, 'Integration' has just been republished in the new Fand style, now with an excitingly abstract front cover picture. The music itself takes its inspiration from Jungian psychology, with the four voices of the string quartet representing four personality aspects that integrate with each other to form a whole. The four-colour interwoven patterning of the new cover reflects this idea.
On an unrelated note, visitors to the Fand site may like to know that sample music pages have also recently been added to a lot more items in the catalogue. Although there are still many pieces without sample pages, more than half the items in the catalogue do now have them.
February 2013:
BAX: Works for Cello and Piano
Fand is delighted to be able to supply an excellent new CD featuring the music of Sir Arnold Bax, entitled BAX: Works for Cello and Piano. Bax's Legend-Sonata, the major work featured on this disc, was written for Florence Hooton and was first performed by her in 1943. This CD was released to mark Florence Hooton's centenary in 2012 and features her pupil, the acclaimed cellist Lionel Handy, accompanied by Nigel Clayton in a highly authoritative set of performances. Lionel is a long-serving professor at the Royal Academy of Music, teaches at the Birmingham Conservatoire and in summer schools throughout Europe, and has been guest principal with most leading UK orchestras.
January 2013:
Pinecroft Suite
John Barton Armstrong's Pinecroft Suite for piano solo was found amongst the composer's papers after his death in 2010. It is an affectionate tribute to a family he used to visit regularly at a house called Pinecroft in East Horsley, and dates from around 1964. Each of its six short movements is a miniature musical sketch: one for each family member. The pieces vary in difficulty (number 4, Barnes' Invention, being significantly more difficult than the others), but overall should suit a pianist of around Grade 6 standard.
December 2012:
Country Scenes
Fand has published a new collection of three songs for medium voice and piano or harp: Country Scenes by Gary Higginson. These delicate songs all cover themes of nature and the countryside, and are suitable for both male and female singers. Note that the first of the songs may also be accompanied by guitar.
Recently, a CD of Gary Higginson's music has been issued on the Regent label: Songs of Innocence and of Experience [REGCD381]; these three songs have been recorded for this CD, and you can hear them on this site.
September 2012:
Romance
This autumn we are pleased to announce the publication of Romance for Viola and Piano by Peter Thompson. This will be a welcome addition to the list of short repertoire pieces for the instrument; a meditative song of shaded contrasts well suited for a Grade 7+ player.
July 2012:
Lonely Waters
Fand is delighted to present John Mitchell's highly idiomatic piano solo arrangement of E. J. Moeran's Lonely Waters: a 'must' for lovers of Moeran's distinctive music.
Lonely Waters is one of a pair of short orchestral pieces (the other being Whythorne's Shadow) that Moeran wrote in 1931 as Two Pieces for Small Orchestra. Both pieces are based on existing melodies: Lonely Waters on a folksong and Whythorne's Shadow on an Elizabethan tune.
Unusually, Lonely Waters has a choice of endings, one of which involves a singer providing a sung motto to the piece. The new piano arrangement preserves this pair of alternative endings. Indeed, since the vocal line is almost entirely unaccompanied, it might even be performed by the pianist.
June 2012:
New publications for June
Fand's latest major publication is an important work by John Barton Armstrong. His Sonata for 'Cello and Piano is a long single-movement work that lasts for nearly half an hour; written in 1981, it ranks as one of his most significant scores after his symphonies and opera. The sonata was first performed in 1987 and received its first radio broadcast in 1988.
Also now available in commemoration of Carey Blyton's 80th anniversary year is a new edition of Composer Interviews no 1: Carey Blyton. This second edition presents the interview (with minor updates and corrections) in an attractive new format and adds a recent essay by Peter Thompson, written for the anniversary year.
19th May 2012:
Carey Blyton & Friends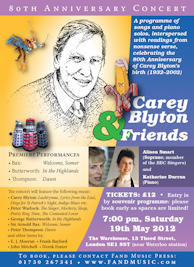 FORTHCOMING CONCERT
Book now for an exciting event: Carey Blyton & Friends is a celebratory concert marking the 80th anniversary of Carey Blyton's birth. The performers are:
Alison Smart, soprano (member of the BBC Singers)
Katharine Durran, piano
The concert will feature primarily the work of Carey Blyton, along with that of his friends and pupils, such as Frank Bayford, John Mitchell and Peter Thompson, together with music by Warlock and Moeran (Blyton was a member of the Warlock Society and wrote a radio play about Warlock and Moeran).
Also featured will be three world premiere performances: Sir Arnold Bax's Welcome, Somer, Peter Thompson's Dawn and In the Highlands by George Butterworth.
The concert will take place at The Warehouse, London (very close to Waterloo station). Booking is by souvenir programme and spaces are limited. You are therefore strongly advised to book well in advance.
To book, go to the concert page and use the 'Add to Cart' button to pay via PayPal. For further enquiries, phone Fand on 01730 267341.
November 2011:
Bax: Welcome, Somer • New Thompson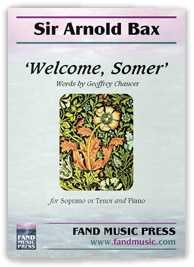 The publication of Sir Arnold Bax's Welcome, Somer is another important first for Fand; this is a previously unpublished Bax song: a vigorous and typically characterful setting of words by Chaucer, for either soprano or tenor voice and piano.
In 1914, Bax composed Three Rondels by Chaucer for high voice and piano, of which only the first, Roundel, was ever published; the other two, Welcome, Somer and Of her Mercy, remained in manuscript form only.
Welcome, Somer was completed on 20 October 1914, four days before the wedding of Joan Thornycroft, its dedicatee, to Herbert Farjeon; the song was clearly intended as a wedding present. It is a setting of a rondel near the end of Chaucer's long poem, The Parlement of Foules, in which a narrator describes a dream-vision.
Quays of Heaven
Fand's other November releases feature the music of Peter Thompson. A pair of keys/quays to start with: The Keys of Heaven is Thompson's individualistic arrangement of a Cheshire folksong for four voices (SATB, with piano reduction for rehearsal purposes), whilst his Sidlesham Quay is an original piece for solo piano: a limpid impression of a watery landscape, suitable for pianists of Grade 5 and above.
Finally, Thompson's new Sonatina for Piano is a substantial four-movement work for pianists of around Grade 8 standard.
July 2011:
The Christmas Spirit: new arrangement for Choir (SATB) and Piano
As a supplement to the recent publication of Carey Blyton's The Christmas Spirit in its two different authentic scorings for two equal voices and piano and choir (SATB) and string orchestra, Fand has also published a new arrangement of the piece for choir (SATB) and piano. This helpful and easily performed new scoring may be used in its own right – thus making the work more readily accessible for public performance – or may be used as a rehearsal score while learning the version for choir and string orchestra.
4th June 2011:
The Christmas Spirit and The Renaissance Spirit
Fand is delighted to announce the availability of two new additions to the catalogue. Peter Thompson's newly written The Renaissance Spirit is a warmly contemplative and sensitive work for piano, dedicated to the memory of John Barton Armstrong, a Renaissance man.
In a lighter and more humorous mood, Carey Blyton's The Christmas Spirit is available in two versions: one for choir (SATB) and string orchestra and a more easily staged version for two equal voices and piano. The Christmas Spirit is a typically witty Blyton work, with comical words set to memorable tunes, interspersed with snatches of well-known existing melodies. These accessible pieces should be ideal seasonal fare for both youth choirs and amateur ensembles alike.
These issues introduce a new presentational style for Fand sheet music, with attractive full-colour covers that match the look of this Web site.
The version of The Christmas Spirit for two equal voices and piano has been recorded on the CD, The Choral Music of Carey Blyton, also available from Fand.
June 2011:
Sound Samples
The Fand site has just undergone a major overhaul to add sound samples to its pages. The samples are of generous length and unusually good quality for a Web site. All CDs include sample tracks (including, in the case of shorter tracks, full-length samples). As for sheet music, a full performance is provided wherever possible, so as to allow visitors to get a good sense of the entire piece. A Speaker and Notes icon is used to indicate pieces that have associated sound samples; either alongside the titles in tabular listings or as badges on covers, as in the following example:
March 2011:
Thompson Capriccio for Violin and Orchestra
Fand is pleased to release two versions of Peter Thompson's Capriccio for Violin and Orchestra, composed in 2007. As well as the orchestral version (which itself is available to buy as a regular-sized score or in a conductor-score edition), a reduction for violin and piano is also available.
November 2010:
Eclipse CD
We are delighted to be able to offer this double-CD box set of M. S. Sharifian's monumental Islamic oratorio.
Eclipse is the first symphonic work based on a religious subject ever to be written in the 1400-year history of Islamic culture. As such, it is surely "crossover" music at its most pertinent, blending, as it does, so many different aspects of East and West. The result is a powerful and moving statement, the music combining elements of both traditions into one, thereby mirroring one of the most important issues facing contemporary mankind. It is performed, fittingly, by a truly international cast: a Romanian orchestra, the Oltenia Philharmonic Choir, a Persian traditional singer and Western soloists, including the British soprano, Florence Lippett.
This is a unique opportunity to purchase the first edition of a landmark recording. Translated explanatory notes are included with the CD, which has original booklet notes in Persian.
September 2010:
A Whole New Web Site! (And more…)
After a long period of preparation, Fand Music Press is very excited to launch its landmark event of the year: AN ENTIRE NEW WEB SITE! This isn't just a superficial makeover; it's a completely new database-driven site, planned afresh and written from scratch.
We hope you will enjoy exploring the features of the new site, which is far more detailed than ever before. The new database underlying the site contains just about everything you might want to know about the products in the Fand catalogue, and the site can now automatically cross-reference and catalogue pieces by instrument, by composer and so on. Use the tabs at the top of the page to explore what's available. The buttons in the left column bring you back to this News page or provide additional information about Fand.
You will also notice that we now have online ordering for all items, accomplished through PayPal. This should make ordering items immeasurably easier than it was previously, as well as being a quicker and more secure process. (However, you can still send us a cheque through the post if you would really prefer to use the old ordering method!)
There's still more to come, too. Although this new site is fully working and complete in itself, it will be expanded over the coming weeks and months to include further new features, such as:
Sound samples are currently missing, but will return in improved and extended form.
The Wine Catalogue is also absent for the moment, but will return with updated and expanded entries.
A search facility will be added to supplement the already very comprehensive indexing.
There will be even greater cross-referencing of items on the site, with links between printed music in the catalogue and recordings of it on CDs that are available from us, plus CD listings on composer information pages.
More sample pages: currently, the only pieces in the catalogue that include sample pages are items that I (Richard Hallas, Webmaster) have typeset for Fand in the past under my music-editing/setting name of KeyNote. (Examples include Bax's In the Night and Peter Thompson's Prelude for Orchestra: Stress.) I created these samples initially because I could generate them easily from the original computer files. Over time, I intend to include sample pages for all items in the catalogue, but this will require a lot of scanning and graphical tidying!
And, no doubt, a few more surprises…
New releases by Bax and Thompson
As if the new Web site weren't enough, Fand has also produced two exciting new musical issues:
Sir Arnold Bax's A Rabelaisian Catechism was written in 1920, and was one of a set of seven arrangements of French folksongs that Bax wrote at that time, but the only one never to be published until now. Set for baritone and piano, it takes the form of a chanson de série in which a question is put twelve times and the answer given cumulatively, in the manner of The Twelve Days of Christmas. Peter Thompson's The Oblation is a delicate new setting of a poem by A. C. Swinburne for medium voice and piano.
Summer 2010:
New piano music by Bax and others
Welcome to Fand's latest news. We must draw your attention to new items in our catalogue. You will possibly already be aware of our edition of Gary Higginson's Shadows for piano; it is a set of pieces of Grades 3–4 level, and is a great introduction to different styles of composition. Here Higginson 'shadows' various composers, from Machaut to George Lloyd, from Bach to Peter Warlock. The volume has been welcomed enthusiastically by both Music Teacher and Piano magazines. And now, new this summer, comes Scenes from Shakespeare, again by Gary Higginson. It is a follow-up volume to Shadows, and is a set of eight pieces for pianists of higher grade, each prefaced by a quotation from Shakespeare.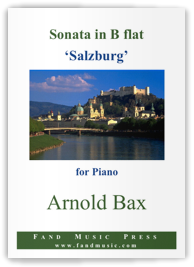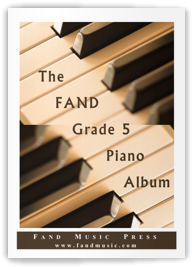 Next, the first ever edition of Sir Arnold Bax's Salzburg Sonata in B flat for piano. This piece, written by Bax in his 50s, is tremendous fun both to play and to listen to. It was never published in his lifetime, yet Bax clearly liked it, incorporating the second movement into his Violin Concerto, and, as the manuscript shows, devoted a lot of time and care into its composition. It is a great rarity, and will get you chuckling with delight as the 'brazen romantic' puts the 'classical sonata' through its paces. It includes an introductory note from Graham Parlett.
Another volume we must mention is the Fand Grade 5 Piano Album. Here is a varied selection of pieces from Sir Arnold Bax (the Minuet from the Salzburg Sonata) to Roger Eno; from Francis Pott to Warlock and Fauré tributes by Gary Higginson; from … well, discover for yourself—that's Fand's motto! There's nothing above Grade 5 level here; 13 pieces, 31 pages.
Autumn 2009:
Recent publications and reminders
Regular visitors to our site will know that we are constantly bringing out new sheet music titles, books and CDs. New publications in 2009 were Peter Thompson's Roundels for violin and 'cello duo, and John Barton Armstrong's 24 Preludes for piano, an exciting new exploration of the 24 keys. Following on from the latter, and now available, is Composer Interview no 2 with John Barton (Barry) Armstrong (born 1923), providing an insightful view into his long composing life.
Other publications that you might have missed include Notes to Myself for piano by Roger Eno, Pagodas for piano duet by John Mitchell, Sonatina for bass clarinet (or bassoon) and 'cello by Peter Thompson, When most I wink with words by William Shakespeare, set to music by Gary Higginson, The Bishop's Prayer with words by Bishop Graham of Carlisle, also set by Gary Higginson, and Three Lieder on Poems by Hafez by M. S. Sharifian, an old friend of Fand Music Press but our first publication of his work.
Now also newly available: Et Omnes Eandem, a short motet for SATB by Gary Higginson, Three Pieces for solo oboe by Martin Read, a piano miniature, Kimberley, by David Llewellyn Green and, also for piano, Peter Thompson's Suite no 7.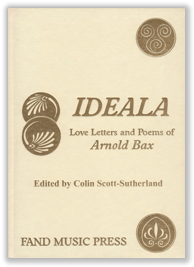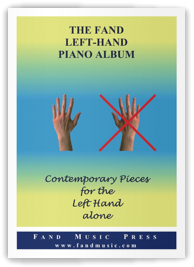 We would also like to remind you of our very prestigious earlier book publication, the collected poems of Dermot O'Byrne (Sir Arnold Bax's literary pseudonym) in a large volume entitled IDEALA. This fascinating book, edited and introduced by Bax's first biographer, Colin Scott-Sutherland, contains much other source material from the young Bax, including love letters, music and writings by those who knew him intimately. A significant treasure trove indeed!
A companion volume, The Collected Poems of Clifford Bax, also edited by Colin Scott-Sutherland, is well into preparation. Watch this space!
Returning to sheet music, our recently published Fand Left-Hand Piano Album has provoked enormous interest worldwide! Take a look at its page on this site for further details, plus a selection of the published reviews.
Much more is in the pipeline, so please bookmark our site and come back regularly!