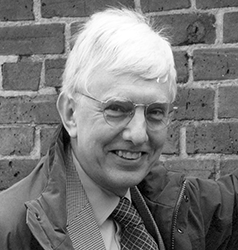 John Mitchell
[born 1946]
John Mitchell was born at West Byfleet, Surrey, and, after spending the first twelve years of his life in Southeast London, has lived mainly in Kent. Studying pharmacy at Portsmouth, he qualified as a pharmacist in 1968, and has worked in community pharmacy ever since. His interest in music began in his teenage years, and he was initially largely self taught as a composer. However, in 1974 he embarked on a period of private study with Carey Blyton which continued until 1980. During that time he successfully took the AMus diploma from Trinity College, London in 1977.
Apart from composition itself, arranging music has been another activity to which John Mitchell has devoted some time – partly in transcribing other composers' music, but also in numerous arrangements for handbells (he was Musical Director of the Martello Ringers from 1983 to 1999). More recently he has been involved in accompanying, and he is currently the principal rehearsal pianist for the Canterbury Operatic Society. For several summers he has joined the Marley Players as pianist in a Victorian Music Hall production as part of the Broadstairs Dickens Festival.
In addition to the works published by Fand Music Press, listed below, his music is also published by Modus Music.
---
Composer…
---
Arranger…
Attribution
Work
Grade
Vocal range
Duration
Published
Price

Sir Arnold Bax


arr.

John Mitchell

Dance in the Sun


arranged for solo piano

8 to Advanced (post-Grade 8)
7¼ mins
7th November 2015
£9.50


E. J. Moeran


arr.

John Mitchell

Lonely Waters


arranged for solo piano




with optional voice part

8 to Advanced (post-Grade 8)
C♯ to D♯'
9½ mins
1st July 2012
£9.95


Sir Arnold Bax


arr.

John Mitchell

Pensive Twilight


arranged for solo piano

8
7 mins
4th March 2016
£8.50