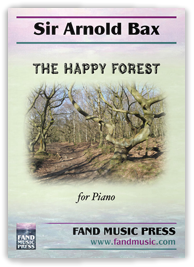 The Happy Forest
for piano
The Happy Forest, completed on 13th May 1914, is based on a prose-poem of the same name by the writer and drama critic Herbert Farjeon (1887–1945), whose original text is reproduced in Lewis Foreman's Bax: A Composer and his Times (3rd edition, 2007, pp. 428–9). A few brief sketches for the score, in pencil, are owned by Dr Clifford Gillam, and the completed manuscript is in the British Library (Add. MS 50176), having been bequeathed by Harriet Cohen, who died in 1967.
In 1922 Bax returned to the work and started making notes on it for a proposed orchestration, which was completed later that year or early in 1923. The first performance was given by the Goossens Orchestra under Eugene Goossens at Queen's Hall on 3rd July 1923 as part of a concert in aid of the Great Ormond Street Hospital for Sick Children. Subtitled Nature-Poem, the orchestral version was published in 1925 by Murdoch, Murdoch & Co. with a dedication to Goossens. Henry Coates's programme note for its première clearly uses material supplied by the composer:
This work by Mr Arnold Bax was only recently completed. It was inspired by a fantastic prose-poem of the same name by Mr Herbert Farjeon, the composer intending his score to be a 'musical counterpart', to use his own expression, of the poem. The latter is too long for reproduction here, and in any case Mr Bax prefers the music to be listened to apart from the poet's lines, and to tell its own tale.
The piece was first planned as a work for pianoforte, but never appeared in this form and was eventually evolved into an orchestral work. It takes the form of a Scherzo and Trio, and is so simple in construction that its composer deems any detailed analysis unnecessary.
The subtitle of the work, 'A Nature-Poem', sufficiently indicates the scope of the music, and one may add that its aim is to depict the delicate charm of the early days in May in woodland country. The first section of the work is brilliant in its movement and colour: the Trio strikes a quiet pastoral note, of more reflective mood, in contrast with the opening and concluding portions.
—Graham Parlett
Sample pages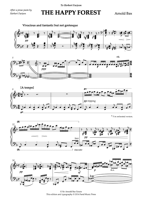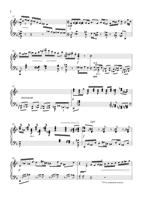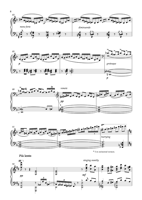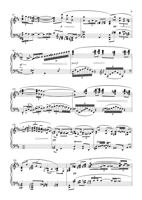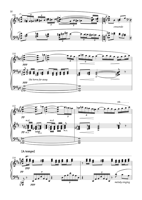 (Click to enlarge)
Composer
Title
Grade
Forces
Duration

Sir Arnold Bax

The Happy Forest




for piano

Advanced (post-Grade 8)
Piano
10 mins
Catalogue code: FM185 • Published: 22nd March 2014
Entry last updated: 22nd March 2014