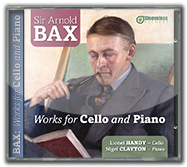 BAX: Works for Cello and Piano
Lionel Handy, cello & Nigel Clayton, piano
This product has a total of 25 review excerpts; reload the page to see other quotations at random or take a look at all the reviews of this publication.
I strongly endorse the present release, for the excellence of its performances and sound quality and the value of this unfamiliar music.
—Daniel Morrison, Fanfare (37:3, Jan/Feb 2014)
Anyone with an interest in 20th Century cello music should investigate this disc and in the process discover some of Bax's most fascinating works – all performed and recorded here to perfection.
—Richard R. Adams, The Sir Arnold Bax Website
Bax's Legend-Sonata, the major work featured on this disc, was written for Florence Hooton and was first performed by her in 1943. This CD was released to mark Florence Hooton's centenary in 2012 and features her pupil, the acclaimed cellist Lionel Handy, accompanied by Nigel Clayton in a highly authoritative set of performances. Lionel is a long-serving professor at the Royal Academy of Music, teaches at the Birmingham Conservatoire and in summer schools throughout Europe, and has been guest principal with most leading UK orchestras. He writes:
The inspiration for this recording was the centenary of Florence Hooton in 2012. While studying at the Royal Academy of Music I was greatly encouraged by her dynamic teaching. Florence herself worked closely with many composers, and her rapport with Bax enabled her to pass on invaluable insights into interpreting his works.
—Lionel Handy
The CD is a particularly high-quality production: aside from its authoritative and well-recorded performances, no expense has been spared in its manufacture. It features a lavish 12-page booklet containing an essay by Lewis Foreman and a picture-disc, with full-colour printing throughout (see sample images and track samples below). A must for all Bax fans!
Sample pages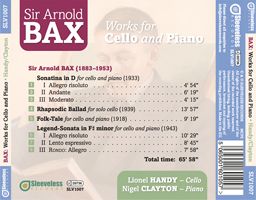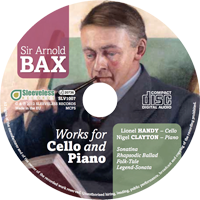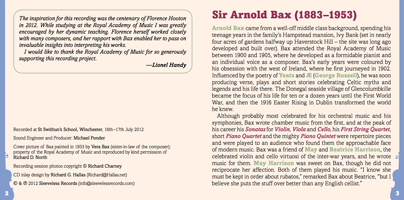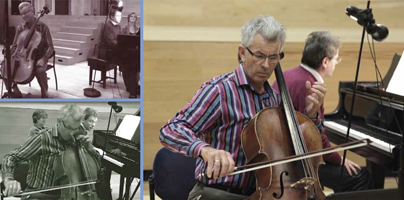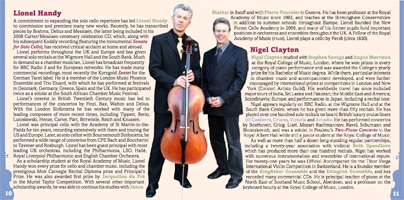 (Click to enlarge)
Composer
Title
Performer(s)
Total duration
Sir Arnold Bax

BAX: Works for Cello and Piano




Lionel Handy, cello & Nigel Clayton, piano

Lionel Handy, 'Cello,
Nigel Clayton, Piano
01:05:58
#
Composer
Work
Movement
Performer(s)
Duration
1

Sir Arnold Bax

Sonatina in D
for cello and piano (1933)
I: Allegro risoluto
Lionel Handy, 'Cello,
Nigel Clayton, Piano
00:04:54
2
II: Andante
00:06:19
3
III: Moderato
00:04:15
4

Rhapsodic Ballad for solo cello (1939)

Lionel Handy, 'Cello
00:13:57
5

Folk-Tale for cello and piano (1918)

Lionel Handy, 'Cello,
Nigel Clayton, Piano
00:09:19
6
Legend-Sonata in F♯ minor
for cello and piano (1943)
I: Allegro risoluto
00:10:29
7
II: Lento espressivo
00:08:45
8
III: Rondo: Allegro
00:07:58
Catalogue code: SLV1007 • Published: 23th November 2012
Entry last updated: 26th April 2014