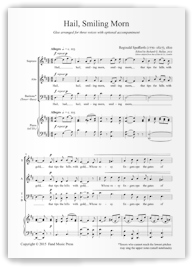 Hail, Smiling Morn
Glee arranged for three voices
with optional piano accompaniment
Reginald Spofforth wrote around 75 glees; they are the music for which he is best remembered, and several of his glees won prizes. Hail, Smiling Morn (composed in 1810, probably to the composer's own words) won no prize, but nevertheless ended up being widely regarded as the most popular glee in the entire repertory. It is still frequently performed today and can be found on many different recordings in a variety of guises. It is often sung as either a Christmas or an Easter carol (though there is no compelling reason why it should be, as its words are not seasonal), and is particularly popular in the West Riding of Yorkshire (especially in Huddersfield, Sheffield, Bradford and the Holme Valley). It is frequently performed by choral societies and in the pub-singing traditions at Christmas in the area; in the Borders, it is also sung during the centuries-old Selkirk Common Riding festival.
Hail, Smiling Morn was originally written for four unaccompanied male voices (ATTB), but has been widely adapted. The new Fand edition is an enhancement of the nineteenth-century edition published by Hart & Co., London for three voices (SAB) with optional piano accompaniment. In recognition of the difficulties faced by many 21st-century choirs and choral societies that attempt to perform music of worth (namely, problems in attracting sufficient singers in the lower voices), the new Fand edition makes the Bass line accessible to all male singers, with optional upper and lower pitches where appropriate so that the line can be performed by tenors and/or basses simultaneously, leaving the rest of the harmony to the sopranos and altos.
There is also a piano accompaniment that adds something of substance to the performance, being a genuine accompaniment rather than just a reduction of the voice parts. Nevertheless, the piece may be performed by the three voice parts alone, and this new edition contains small harmonic improvements to improve its effectiveness when sung without accompaniment.
Appropriately enough, given the popularity of this glee in and around the Huddersfield area, this new edition was produced for performance by a Huddersfield choir.
Note that this music has been priced affordably, and is presented as a coverless four-page copy on a folded A3 sheet, to keep its price within the reach of amateur choirs.
Sample pages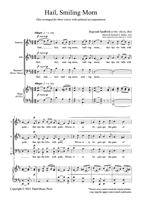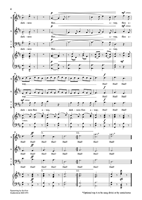 (Click to enlarge)
Composer
Title
Forces
Duration

Reginald Spofforth


Edited by

Richard Hallas

Hail, Smiling Morn




Glee arranged for three voices




with optional piano accompaniment

Choir (SA[T+B]), Piano
2¼ mins
Recorded performance
The Huddersfield Singers (Alexander Douglas, Conductor) with Sue Ogden, Piano
From a concert entitled Night & Day on Sunday, 28th June 2015 at St Paul's Church, Armitage Bridge, Huddersfield
This (mono) recording is of the first performance of this edition of the piece, sung by the choir for which it was produced
Catalogue code: FM191 • Published: 27th May 2015
Entry last updated: 29th June 2015