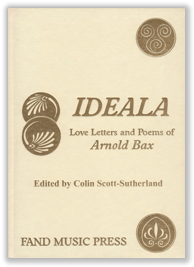 IDEALA
Love Letters and Poems of Arnold Bax
ISBN 0-9535125-3-3
This product has a total of 21 review excerpts; reload the page to see other quotations at random or take a look at all the reviews of this publication.
…here is a beautiful and lovingly-produced quality volume of his poems, including all of those he wrote under the pseudonym of Dermot O'Byrne, together with some of his Love Letters, happily preserved and made available by the Bax Estate … reading many of the poems is akin to hearing the music contained in the sound of speech. The love letters amplify the poems, all of which is illuminated by the music…
—Musical Opinion (September 2001)
Arnold Bax set to music only four of his own poems: two of them with authorship attributed to his nom-de-plume, Dermot O'Byrne. I recall asking the Scots Gaelic poet Sorley Maclean, "Who is a Gael?" He replied: "One who has the language, the Gaelic." Now that this ancient language's survival is threatened, the point is all the more clamant. That authoritative view (from the acknowledged doyen Gaelic poet of recent history) deserves consideration. It is facile to ridicule Bax's alter ego of Dermot O'Byrne, but Bax had the Irish Gaelic language. The volume under review reproduces the MS of his translation of Synge's play, The Shadow of the Glen, into Bax's Irish Gaelic. Synge did not write in Gaelic. Neither did Yeats. Bax did. He justified his nom de plume, Dermot O'Byrne.
—Ronald Stevenson, International Piano Quarterly
---
September 2001 saw the publication of the collected poems of Dermot O'Byrne (Sir Arnold Bax's literary pseudonym) in the form of a substantial volume entitled IDEALA. This fascinating book, containing poems, love letters, music and other writings by those who knew him intimately, is edited and introduced by Bax's first biographer, Colin Scott-Sutherland (Arnold Bax, Dent, 1973).
This sumptuous book contains 320 pages with nearly 90 illustrations, including an edition of The Princess's Rose Garden, and is hard-bound and gold-blocked. Reviews have been numerous and very positive; the quotations shown at the head of this page are chosen at random, so click the Reload button to see others.
POSTAGE IS FREE ON THIS ITEM.
---
Author
Title
Dermot O'Byrne

IDEALA




Love Letters and Poems of Arnold Bax




ISBN 0-9535125-3-3

#
Author(s)
Chapter
1

Dermot O'Byrne


Edited by

Colin Scott-Sutherland

Acknowledgments
2
Introduction
3
Poems in Red Notebook
4
First (typed) Collection
5
Letters to Isobel Hodgson
6
'Seafoam and Firelight'
7
Letters to Mary Field
8
Second (typed) Collection
9
Harriet Cohen and 'The Princess's Rose Garden'
10
Elsa Sobrino
11
'Verses' – Third (typed) Collection
12
'Love Poems of a Musician'
13
'A Dublin Ballad and Other Poems'
14
Memoir 'The Two Brothers' (Francis Colmer)
15
Appendices 1–8
16
Index of Poems
17
General Index
Catalogue code: FM091 • Published: September 2001
Entry last updated: 21st July 2010