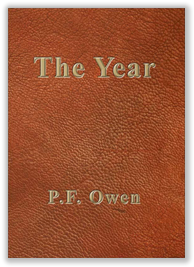 The Year
LIMITED EDITION
ISBN 978-0-9535125-7-7
POSTAGE COSTS £1.50 ON THIS ITEM.
P. F. Owen's first volume of poems is a distillation of work wrought over years.
Writing upon perennial themes in poetry – on loss, on longing and on love – The Year is a carefully constructed longer poem divided into many leaves of seasons, months, days and moments.
Author
Title

P. F. Owen

The Year




LIMITED EDITION




ISBN 978-0-9535125-7-7
Catalogue code: FM188 • Published: 1st September 2014
Entry last updated: 1st September 2014