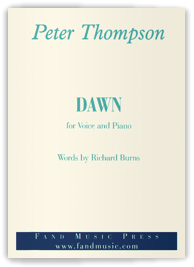 Dawn
for voice and piano
…beautifully sculptured […] imaginative and beautiful setting … distinctive and eminently worth the attention of genuine music-lovers and aspiring concert singers.
—Robert Matthew-Walker, Musical Opinion (July–August 2012 p52)
For information about Richard Burns, author of the text of this piece, see his Web site.
Sample pages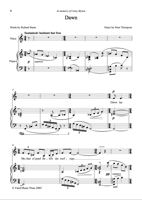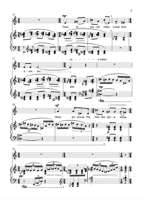 (Click to enlarge)
Composer
Title
Vocal range
Forces
Duration

Peter Thompson


Words:

Richard Burns

Dawn




for voice and piano

A to F'
Voice, Piano
2½ mins
Recorded performance
Cara Thompson, Soprano, Uno Hu, Piano
From a performance on Monday, 11th May 2015
Video
This video presents the above recording of Dawn with some complementary imagery, and includes the full text of the song in the form of subtitles. The performance was given by Cara Thompson, niece of the composer.
Catalogue code: FM116 • Published: 2003
Entry last updated: 1st February 2016