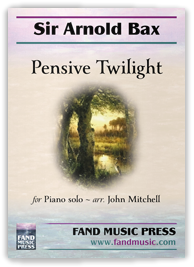 Pensive Twilight
arranged for solo piano
Foreword
During 1912–13, Bax wote a set of Four Orchestral Pieces with the titles Pensive Twilight, Dance in the Sun, From the Mountains of Home and The Dance of Wild Irravel. Each movement is scored for different forces, ranging from strings and harp (No. 3) to full orchestra (No. 4). Writing to his friend Arthur Alexander, Bax remarked that the latter 'will sound like Armageddon—a complete battery of percussion, and castanettes [sic] clucking like a self complacent hen … [;] the gentle and refined melancholy of the first piece [Pensive Twilight] will set it off well.' The first performance of the Four Orchestral Pieces was given on 20th March 1914 by the Queen's Hall Orchestra under Geoffrey Toye, and fourteen years later Bax decided to revise them, omitting the last one and retitling the others, while slightly reducing the orchestration and making a few cuts. In this new version, entitled Three Pieces for Small Orchestra, Pensive Twilight was renamed Evening Piece and premièred by an ad hoc orchestra under Malcolm Sargent at a children's concert in Central Hall, Westminster on 1st December 1928. John Mitchell's arrangement for piano is of the original version, the manuscript of which is in the British Library (part of Add. MS 50175).
—Graham Parlett
A note from the arranger
What appears in this publication is not the first time a movement from this Bax orchestral work has been arranged for piano, as it is known that Philip Heseltine (more familiar as the composer Peter Warlock) made a piano transcription of the third movement, From the Mountains of Home. The circumstances of how his arrangement came into being have not been identified, but as the Four Orchestral Pieces were unpublished (and still are at the time of writing), it is reasonable to assume Arnold Bax must have allowed Heseltine to borrow his manuscript score at some point. However, whether Bax approved of Heseltine's arrangement, or even knew about it, has not been recorded.
With such a precedent existing, the necessary encouragement was thus on hand for other of the four movements to be arranged for piano. The first to be tackled was Dance in the Sun (also published by Fand Music Press), and Pensive Twilight which followed was equally problematic to adapt into pianistic guise because of Bax's texturally quite complex orchestral writing. The only thing added that is not in the original is the poco rit. direction at bar 134, where it was felt a slight slowing down was appropriate before a reprise of the earlier thematic material played fortissimo.
—John Mitchell
Sample pages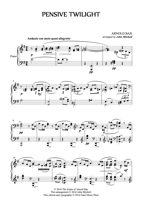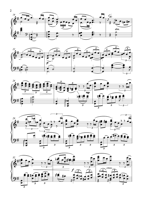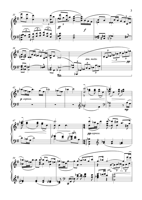 (Click to enlarge)
Catalogue code: FM197 • Published: 4th March 2016
Entry last updated: 4th March 2016