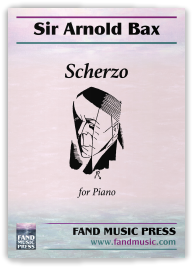 Scherzo
for Piano
The manuscript of this hitherto unpublished piece, completed on 17th October 1913, has the word 'Sonata' centred at the top of the first page, and on the left-hand side of the next line: 'No 2 Scherzo', the numeral clearly referring to the movement rather than to the work as a whole. The rest of the sonata (if it ever existed) is no longer extant, though, since it is in the relative major (F), there may be some connection with Bax's lost Sonata in D minor, the first movement of which was performed by Myra Hess at the Æolian Hall in London on 2nd June 1911 as part of the Fourth Congress of the International Musical Society; but there is no evidence to confirm this connection or to suggest that the Scherzo was ever played in public during Bax's lifetime. Its first known performance was given, from a copy of the manuscript, by Malcolm Binns in Studio No 1, Abbey Road, on 9th September 1981 as part of a recording session for Pavilion Records (issued on LP SHE 565).
On 7th June 1917 Bax completed an orchestration of the score, and in this form it was first played by the Queen's Hall Orchestra under Sir Henry Wood at a Promenade Concert given on 3rd September 1919. The following year Julius Harrison conducted the London Symphony Orchestra in its second performance at the Empire Theatre, Cardiff on 27th May 1920 as part of the South Wales Festival. It was around this time too that Bax made a slightly truncated arrangement of the work for pianola, which was issued by the Aeolian Company in the autumn of 1921. According to the pianolist Rex Lawson, in his notes for a CD reissue (NMCD136),
Bax's Scherzo was the most popular of Aeolian's 1921 series of composed and arranged rolls, to judge from the number of copies which have survived. To put this in perspective, perhaps three or four original rolls of the Casella pieces [Trois pièces] are known to survive, whereas the Bax is probably represented by a couple of dozen copies.
In the winter of 1933 the composer revised his orchestral version under the new title Symphonic Scherzo, but it remained unplayed in this form until Vernon Handley and the Royal Philharmonic Orchestra recorded it for Chandos at All Saints' Church, Tooting, on 3rd January 1986.
—Graham Parlett
Sample pages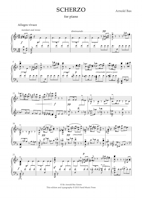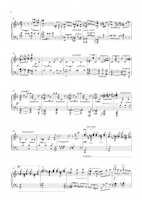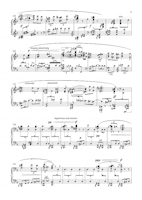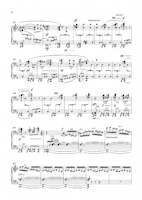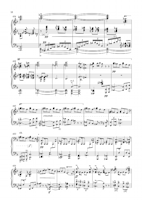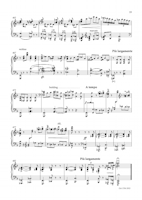 (Click to enlarge)
Composer
Title
Grade
Forces
Duration

Sir Arnold Bax

Scherzo




for Piano

8 to Advanced (post-Grade 8)
Piano
10 mins
Catalogue code: FM196 • Published: 31st December 2015
Entry last updated: 31st December 2015