Dance in the Sun
arranged for solo piano
Foreword
Dance in the Sun is the second of Four Orchestral Pieces that Bax wrote in 1912–13, the others being Pensive Twilight, From the Mountains of Home and The Dance of Wild Irravel. The first complete performance was given by the Queen's Hall Orchestra under Geoffrey Toye on 20th March 1914, but they then remained unplayed as a set for one hundred years, when Sir Andrew Davis recorded them with the BBC Philharmonic Orchestra in May 2014 (available on Chandos CHAN 10829). In the meantime, in 1928, Bax had revised them as Three Pieces for small orchestra, omitting the fourth number and renaming the others: Dance in the Sun was transposed from E major to F and became Dance in the Sunlight. The manuscript of the original Four Orchestral Pieces was presented to the British Library by Harriet Cohen in 1960 (Add. MS 50175) and forms the basis for the present arrangement.
—Graham Parlett
A note from the arranger
What appears in this publication is not the first time a movement from this Bax orchestral work has been arranged for piano, as it is known that Philip Heseltine (more familiar as the composer Peter Warlock) made a piano transcription of the third movement, From the Mountains of Home. The circumstances of how his arrangement came into being have not been identified, but as the Four Orchestral Pieces were unpublished (and still are at the time of writing), it is reasonable to assume Arnold Bax must have allowed Heseltine to borrow his manuscript score at some point. However, whether Bax approved of Heseltine's arrangement, or even knew about it, has not been recorded.
With such a precedent existing, the necessary encouragement was thus on hand for another of the four movements to be arranged for piano. On a personal note, having for many years much admired and enjoyed Neville Dilkes's pioneering 1971 recording of Dance in the Sunlight, when I was approached by Fand Music Press about making a transcription of it for piano, accordingly I was very pleased to take up the challenge. Of great assistance here was having access to Graham Parlett's fairly recently typeset score of the 1912/13 version of Dance in the Sun to work from.
Bax's orchestral music is often texturally quite complex, and arranging it for piano threw up several instances where awkward decisions had to be made about what to keep in and what to leave out. It is hoped what appears here represents the best options at points where these difficult choices were involved. The uppermost consideration I focused on throughout was that in its new pianistic guise the piece should be allowed to dance along allegro vivo just as Bax had intended!
—John Mitchell
Sample pages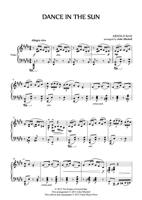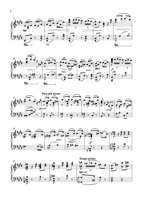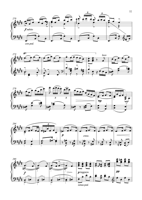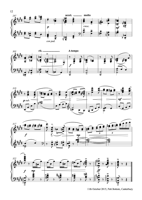 (Click to enlarge)
Composer
Title
Grade
Forces
Duration

Sir Arnold Bax


arr.

John Mitchell

Dance in the Sun




arranged for solo piano

8 to Advanced (post-Grade 8)
Piano
7¼ mins
Catalogue code: FM194 • Published: 7th November 2015
Entry last updated: 7th November 2015