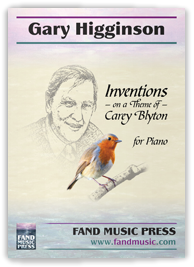 Inventions on a Theme of Carey Blyton
for Piano
FOREWORD
Carey Blyton was one of my tutors when I was a student at the Guildhall School of Music in the 70s. We got on well, so I kept in touch with him for most of the ensuing period up until his death in 2002. I regularly put on performances of several of his works, including Sweeney Todd and Dracula, and conducted the first performance of his Frankenstein whilst at St Helen and St Katherine, Abingdon.
It was whilst there that I asked him for a unison song and he sent me a photocopy of a manuscript of his: Robin Redbreast. Sometime in 1998 or '99 my Junior Choir gave a performance of the piece, and in late 1999 it was published and dedicated to me.
The melody has a simple charm, and in memory of Carey I have written this piece which is aimed, as I think he may have approved, at the competent but probably amateur pianist.
As an anecdote, I must add an example of Carey's humour. He telephoned a week after posting the song to me and asked me if I had "received the blood-y shed". This quite threw us until I realised that the last words of the piece are "…and of the blood he shed"!
The piece spans out as follows:
There is a mysterious introduction in Carey's original C minor, or really F minor without the D flat. The theme is then stated and slightly re-harmonised from the original. Moving into F major it is to be found in 5/4 time and played backwards.
The next invention, also in F, plays with the theme, and is partially canonic.
There follows a Lento section which quotes a melody from Carey's song cycle setting French texts, Toi et Moi, opus 11. The third song is entitled Mea Culpa, which I thought would act as an apology to Carey, if he is watching over my shoulder, to what am I going to do to his serious tune, and that is to turn it into a tango, ultimately a habañera. In fact he enjoyed tangos and wrote quite a number.
Once my tango, in E minor, is over, the opening idea returns and ends the piece thoughtfully in something like the original key.
I hope you, the player, and Carey, the inspirer, like what I have done.
Gary Higginson
17th July 2015
Sample pages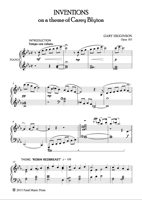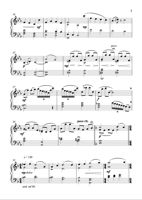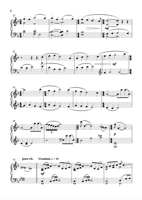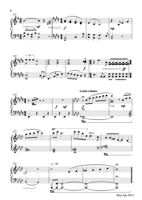 (Click to enlarge)
Composer
Title
Grade
Forces
Duration

Gary Higginson

Inventions on a Theme of Carey Blyton




for Piano

6 to 7
Piano
6 mins
Catalogue code: FM193 • Published: 28th September 2015
Entry last updated: 28th September 2015