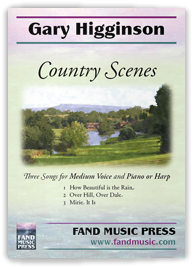 Country Scenes
Three Songs for Medium Voice and Piano or Harp
This collection presents three songs on similar themes of nature and the countryside, all of which may be performed by a medium voice and accompanied by piano or harp. Note that the first song may also be accompanied by guitar.
A CD of Gary Higginson's music, entitled Songs of Innocence and of Experience [REGCD381], has been released on the Regent label. These songs are performed on that disc, and the samples provided here are taken from this recording by courtesy of Regent Records and the composer.
Performance note: although the repeat indicated in the score of Mirie It Is is not observed in the recording presented here, under normal circumstances it should be performed.
Sample pages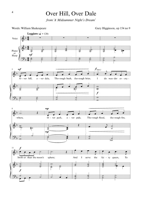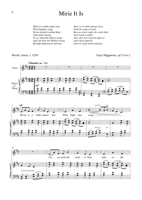 (Click to enlarge)
Composer
Title
Vocal range
Forces
Total duration
Gary Higginson

Country Scenes




Three Songs for Medium Voice and Piano or Harp

C♯ to F♯'
Medium voice, Guitar, Harp, Piano
5 mins
#
Composer
Movement
Forces
Duration
1

Gary Higginson


Words:

Henry Wadsworth Longfellow

How Beautiful is the Rain
Medium voice, Guitar, Harp, Piano
1½ mins
2

Gary Higginson


Words:

William Shakespeare

Over Hill, Over Dale
Medium voice, Harp, Piano
1½ mins
3

Gary Higginson


Words:

Anonymous

Mirie It Is
2 mins
Recorded performance
Charlotte de Rothschild, Soprano, Danielle Perrett, Harp
Catalogue code: FM178 • Published: 8th December 2012
Entry last updated: 8th December 2012