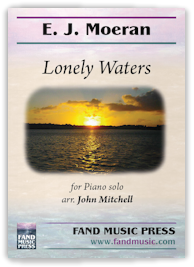 Lonely Waters
arranged for solo piano
with optional voice part
This work is based on a fragment of song still frequently to be heard on Saturday nights at certain inns in the Broads district of East Norfolk. Whenever possible, it is preferable to perform the piece in the version with a voice part; but it should be understood that the singer need not be a professional one, in fact anybody with a clear and natural manner of singing may sing the verse. And in any case, the singer must be in an unobtrusive position, sitting at the back of the orchestra or out of sight altogether.
—E. J. Moeran
Having loved and admired this work of 'Jack' Moeran for about forty years, it was a real pleasure to arrange it for piano solo, and I am grateful here to Peter Thompson for his encouragement in this connection.
In line with Moeran's wishes, there is an alternative vocal ending provided. Pianists performing the arrangement as a solo should simply play pages 1 to 7 inclusive. If the version with voice is being performed, at the end of bar 106 on page 7 there is a cut to the top of page 8 (bar 131) [see sample pages below].
The first performance of this arrangement was given by the arranger (piano), with Jennifer Bastable (voice) at the Annual General Meeting of the Peter Warlock Society at Brompton Oratory Lodge, London, on 12th May 2012.
—John Mitchell
Sample pages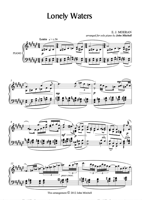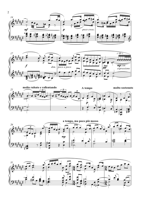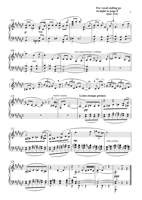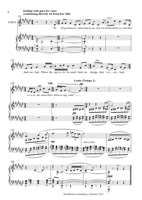 (Click to enlarge)
Composer
Title
Grade
Vocal range
Forces
Duration

E. J. Moeran


arr.

John Mitchell

Lonely Waters




arranged for solo piano




with optional voice part

8 to Advanced (post-Grade 8)
C♯ to D♯'
Voice, Piano
9½ mins
Catalogue code: FM176 • Published: 1st July 2012
Entry last updated: 2nd July 2012