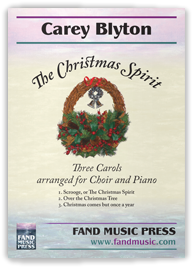 The Christmas Spirit
Three Carols
arranged for SATB and piano
Carey Blyton wrote two versions of The Christmas Spirit (both published by Fand): one for two equal voices and piano and the other for choir (SATB) and string orchestra. Although both versions work well in themselves, their scoring is a little specialised, and Fand felt that there was a strong case for producing an amalgam of the two versions in order to maximise the appeal and ease of performance of the work. Therefore, Richard Hallas has created this arrangement for four-part choir (SATB) and piano.
The music is still authentically Blyton's: the new arrangement essentially just takes the SATB choral part from one of the original Blyton versions and combines it with the piano part from the other. Aside from the resolution of a few minor musical inconsistencies, and some editorial optimisations, the music is fundamentally the same across all three scorings. Thus, this new version for four-part choir and piano can either be presented in a full concert performance as an authentic Blyton work in its own right, or may alternatively be used as a rehearsal score when learning the version with string orchestra, prior to the string players being available.
Use as a rehearsal score
As just noted, this version of The Christmas Spirit is musically compatible with the version for choir and string orchestra. In other words, this score may be used for choir rehearsal purposes, and the singers may continue to use the score on the occasion of the performance, when the rehearsal piano is replaced by the string orchestra.
If you decide to use this score for rehearsals in this way, then you may choose to purchase copies of this version instead of the SATB choir booklets that are available with the string orchestra version. Although those choir booklets are much cheaper, they are less useful to the singers because they contain only the voice parts with string cues, and no instrumental accompaniment.
A note about parts
Please note that this version of The Christmas Spirit is only available as a full score. However, Fand appreciates that purchasing multiple copies for a performance by a substantial number of singers could turn out to be prohibitively expensive. Therefore, if you require more than THREE COPIES in order to stage a performance, please get in touch to discuss your requirements, either by email or phone (01730 267341), and we will be happy to arrange a discount. The discount is available regardless of whether you intend to perform this choir and piano version of the piece in its own right or as a choral score for the version with string orchestra.
Sample pages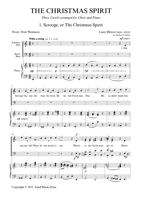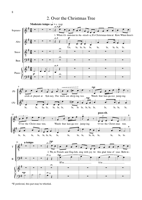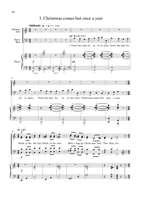 (Click to enlarge)
Composer
Title
Forces
Total duration
Carey Blyton

The Christmas Spirit




Three Carols




arranged for SATB and piano

Choir (SATB), Piano
4½ mins
#
Composer
Movement
Forces
Duration
1

Carey Blyton


Words:

Peter Westmore


Edited by

Richard Hallas

I: Scrooge, or The Christmas Spirit
Choir (SATB), Piano
1¾ mins
2
II: Over the Christmas Tree
1½ mins
3
III: Christmas comes but once a year
1¼ mins
Catalogue code: FM172 • Published: 5th July 2011
Entry last updated: 5th July 2011