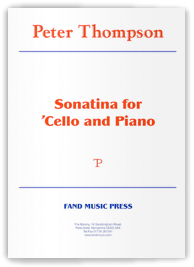 Sonatina
for 'Cello and Piano
This product has a total of 8 review excerpts; reload the page to see other quotations at random or take a look at all the reviews of this publication.
Thompson's musical style is quite individual, and his work here has many memorable and varied ideas.
—John R. Mitchell, Amazon review (June 2014)
The Sonatina for 'Cello and Piano has been recorded commercially by Lionel Handy and Nigel Clayton on the CD From Bohemia to Wessex (available from Fand). You can listen to the entire recording of this work, in full, on YouTube, as shown below.
Sample pages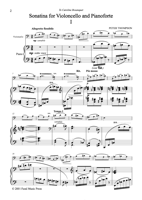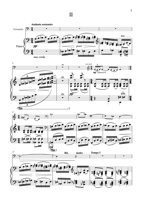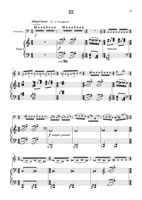 (Click to enlarge)
Composer
Title
Forces
Total duration
Peter Thompson

Sonatina




for 'Cello and Piano

'Cello, Piano
10 mins
#
Composer
Movement
Forces
Duration
1

Peter Thompson

I: Allegretto flessibile
'Cello, Piano
3½ mins
2
II: Andante sostenuto
4¼ mins
3
III: Allegro feroce
2 mins
Recorded performance
Lionel Handy, cello, Nigel Clayton, piano
from the CD From Bohemia to Wessex: Cello Music from the Twentieth Century.
Videos
1st movement:
2nd movement:
3rd movement:
Above are the three separate movements of the Cello Sonatina for ease of playing individually.
Catalogue code: FM094 • Published: 2001
Entry last updated: 4th May 2014