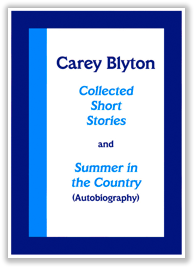 Collected Short Stories
and Summer in the Country (Autobiography)
ISBN 0-9535125-4-1
This product has a total of 6 review excerpts; reload the page to see other quotations at random or take a look at all the reviews of this publication.
Some are whimsical, some ironic, a few sentimental and one or two autobiographical – parallels to his compositions, perhaps. All are readable and pleasantly written…
—Philip Scowcroft, MusicWeb International
…fascinating as an insight into Carey [Blyton]'s formative experiences…
—Cliff Watkins, Salisbury Journal
---
Carey Blyton, nephew of the children's writer Enid Blyton, was born in Beckenham, Kent in 1932. He became a well-known composer, writing much music for film and television, and achieved worldwide fame as the creator of the nonsense song, Bananas in Pyjamas. Throughout his career he was also a writer of prose, and here, collected for the first time, are all of his short stories, together with Summer in the Country, an autobiographical fragment dealing with his experiences as a wartime evacuee.
This is an attractive hardback volume of 120 pages with a glossy dust-jacket; the autobiographical section also contains a handful of photographic illustrations. Purchasers of this book may also like to consider Composer Interviews no 1: Carey Blyton. The Fand catalogue also contains several printed scores, and more than a dozen CDs, of Carey Blyton's music.
---
Author
Title
Carey Blyton

Collected Short Stories




and Summer in the Country (Autobiography)




ISBN 0-9535125-4-1

#
Author(s)
Grouping
Chapter
1

Carey Blyton


Edited by

Peter Thompson

Introduction

Editor's Preface
2

Short stories

Summit Meeting (1957, revised 1982)
3
The Carp (1970)
4
The Swan (1971)
5
Old Sam and the Acorns (1971)
6
A Fine Summer's Day (1971)
7
Deadline (1971)
8
The Final Solution (1979)
9
First Prize to Miss Pettigrew (1980)
10
Little Mr Universe (1980)
11
The Great God Pan (1980)
12
The Spoils of War (1980)
13
The Golden Silence (1980)
14
Touchdown (1980)
15
A Very Good Rate of Exchange (1985)
16
Beggar Your Neighbour (1987)
17

Summer in the Country (Autobiography, 1987)

1. An Unexpected Departure
18
2. Interregnum
19
3. The Rectory, West Lydford
20
4. In the Footsteps of Gilbert White
21
5. New Faces
22
6. In Thrall to Bacchus
23
7. An Expected Departure
24
8. The Gas-works, Castle Cary
25
9. Business Ventures
26
10. Romeo and Juliet
27
11. 'Keep The Home Fires Burning'
28
12. Up Everest with Hilary
29
13. The Departure
30
Post-scriptum
31

Supplementary

Publishing History
Catalogue code: FM093 • Published: 2002
Entry last updated: 12th August 2010