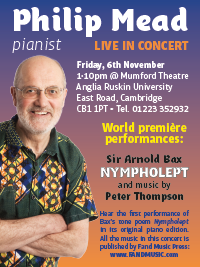 Philip Mead Live in Concert
World première piano performances including Bax's Nympholept
6th November 2015
Various composers
UPDATE: We are delighted to be able to present here a video recording of this entire concert. Please see below.
A free recital including world première piano performances of music by Sir Arnold Bax and Peter Thompson, featuring the original version of Bax's tone poem Nympholept, played by:
In this concert Philip will be giving the first performance of the original piano version of Sir Arnold Bax's Nympholept. Of the group of elaborate scores written around the time of The Garden of Fand and Tintagel, and inhabiting a similarly enchanted world, is Nympholept—later, of course, orchestrated. This work was never played in Bax's lifetime in either its orchestral or piano guise. Unlike its more celebrated counterparts (November Woods, Tintagel etc.), this tone poem was originally conceived by Bax for piano solo.
Fand Music Press has now published this work in its original piano format. It was the International Piano Choice for that magazine's March/April 2014 edition, and Philip Mead's recital, significantly, will feature its first public performance.
Mead trained with Vivian Langrish at the RAM in the 1960s, and so is well-seasoned in the English music piano tradition (especially the music of Sir Arnold Bax and Frank Bridge). What is particularly fascinating about him as a virtuoso is that he is also a well-respected pioneer of performing more modernist scores. His Charles Ives disc won 5 stars, both for performance and sound, and was considered the top performance available of the Ives Sonata ("…a most desirable disc … Mead would be hard to beat" —BBC Music Magazine). More can be found about this pianist at www.philipmead.com.
Date & Venue
Tickets
Entry to this event is FREE!
Watch the full concert
The entire concert was recorded, and may be viewed in full either on this page or in a playlist on YouTube.
Programme details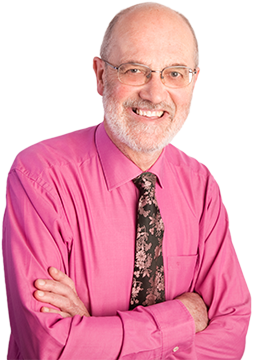 * = Première performance. Note that most of the pieces are published by Fand Music Press; click on the linked titles below to go to the page for the related sheet music.
Videos
1. Peter Thompson: Ballad for Piano:
2. Peter Thompson: Suite no 8: 'Nameless Days' – II: Rhapsodic Frolic:
3. Peter Thompson: Soliloquy for Piano:
4. Sir Arnold Bax: Nympholept – Poem for Piano:
5. Peter Thompson: Toccata for Piano:
6. Sir Arnold Bax: Hill Tune:
Above are the six separate pieces in the concert for ease of playing individually.
Catalogue code: C20151106 • Published: 26th September 2015
Entry last updated: 26th September 2015