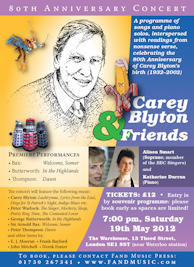 Carey Blyton & Friends
80th Anniversary Concert
19th May 2012
Various composers
This event has a total of 7 review excerpts; reload the page to see other quotations at random or take a look at all the reviews of this concert.
…there was enough variety in the programme to display the many facets of this interesting composer…
—Malcolm Rudland, Peter Warlock Society Newsletter 91
…Blyton's impressive Lachrymae […] was most excellently conveyed by the evening's main artists, Alison Smart (soprano) and Katharine Durran (piano).
—Robert Matthew-Walker, Musical Opinion (July–August 2012 p52)
The information on this page is retained for archival purposes. See the Publicity images section at the foot of the page for a few photographs from the concert. Thanks to John Mitchell for the first two photographs and Richard Hallas for the third.
---
A programme of songs and piano solos, interspersed with readings from nonsense verse, celebrating the 80th Anniversary of Carey Blyton's birth, with:

View The Warehouse in a larger map
Alison Smart, soprano (member of the BBC Singers)
Katharine Durran, piano
This important event will feature primarily the work of Carey Blyton, along with that of his friends and pupils, such as Frank Bayford, John Mitchell and Peter Thompson, together with music by Warlock and Moeran (Blyton was a member of the Warlock Society and wrote a radio play about Warlock and Moeran).
Also featured will be three world premiere performances: Sir Arnold Bax's Welcome, Somer, Peter Thompson's Dawn and In the Highlands by George Butterworth.
Date & Venue
Date:
Saturday, 19th May 2012 at 7:00 pm
Venue:
The Warehouse
13 Theed Street
London SE1 8ST
(near Waterloo station; see map to the right)
Tickets
Entry is by souvenir programme. The ticket price is £12, and postage is free. To book, either use the 'Add to Cart' button at the head of this page to order online via PayPal, or send a cheque, payable to Fand Music Press, to Fand at the address to be found on the Contact/Info page. Spaces are limited, so you are strongly advised to book well in advance.
If you have further enquiries, please phone Fand on 01730 267341.
Programme summary
Carey Blyton
Lachrymae – In Memoriam John Dowland
Two Pensive Songs
Three Impressions
Prayers from the Ark (Selection)
Lyrics from the East
Dirge for St Patrick's Night
Park Lane Stroll
A Ghost from the Past
Indigo Blues
The Flea
Readings from Dr Shinfiddler's Musical Zoo
George Butterworth
In the Highlands

– World premiere performance

Sir Arnold Bax
Welcome, Somer

– World premiere performance

Peter Thompson
Dawn

– World premiere performance

E. J. Moeran
Six Songs of Seumas O'Sullivan (Selection)
Peter Warlock
Songs (Selection)
John Mitchell
The Half-moon Westers Low
Derek Foster
Two Folk Tunes
Frank Bayford
Songs for Children's Dreams
Full programme details
Composer
Title
Performer(s)
Total duration
Various

Carey Blyton & Friends




80th Anniversary Concert




19th May 2012

Alison Smart, Soprano,
Katharine Durran, Piano,
Frank Bayford, Speaker
1 hour, 30 mins
#
Grouping
Composers
Work
Movement
Performer(s)
Duration
1

First Half

Carey Blyton

Lachrymae – In Memoriam John Dowland



Prelude
Alison Smart, Soprano,
Katharine Durran, Piano
10 mins
2
Song (1): Madrigal
3
Interlude I
4
Song (2): The Moon
5
Interlude II
6
Song (3): The Open Door
7
Interlude III
8
Song (4): The Sick Rose
9
Interlude IV
10
Song (5): Sonnet
11
Postlude
12

George Butterworth

In the Highlands




World premiere performance

4 mins
13

Carey Blyton

Dr Shinfiddler's Musical Zoo



The Xylophone
Frank Bayford, Speaker
1 minute
14

Two Pensive Songs



I: Two Stolen Roses
Alison Smart, Soprano,
Katharine Durran, Piano
5 mins
15
II: Come, Night
16

E. J. Moeran

Six Poems of Seumas O'Sullivan




(Selection)

II: The Poplars
7 mins
17
IV: The Dustman
18
V: Lullaby
19

Carey Blyton

Three Impressions



I: Dyrehaven
Katharine Durran, Piano
5½ mins
20
II: Brittany Beach
21
III: Peasant Dance
22

Prayers from the Ark




(Selection)

I: The Prayer of the Cock
Alison Smart, Soprano,
Katharine Durran, Piano
7 mins
23
II: The Prayer of the Goldfish
24
V: The Prayer of the Mouse
25
VII: The Prayer of the Lark
26

Second Half

Sir Arnold Bax

Welcome, Somer


World premiere performance

3 mins
27

Peter Warlock

Songs




(Selection)

The Singer
7 mins
28
Sleep
29
Pretty Ring Time
30
Mockery
31
The Contented Lover
32

Carey Blyton

Dr Shinfiddler's Musical Zoo



The Harp
The Tuba
Frank Bayford, Speaker
1 minute
33
Lyrics from the East

I: The Blast of Love
Alison Smart, Soprano,
Katharine Durran, Piano
4½ mins
34
II: Paradise
35
III: Evening
36
IV: Night
37
V: Puty-Fish
38
Dirge for St Patrick's Night

3½ mins
39

John Mitchell

The Half-moon Westers Low



1½ mins
40

Derek Foster

Two Folk Tunes



I: Andante
Katharine Durran, Piano
3½ mins
41
II: Andante
42

Frank Bayford

Songs for Children's Dreams



I: The Phantom Voices
Alison Smart, Soprano,
Katharine Durran, Piano
8 mins
43
II: Grey Goose and Gander
44
III: Three Young Rats
45
IV: Riddle
46
V: The Rainbow
47
VI: Cambric and Acre
48

Carey Blyton

Dr Shinfiddler's Musical Zoo



The Accordion
The Concertina
Frank Bayford, Speaker
1 minute
49

Park Lane Stroll



Katharine Durran, Piano
2 mins
50

A Ghost from the Past



2½ mins
51

Peter Thompson

Dawn


World premiere performance

(In memory of Carey Blyton)
Alison Smart, Soprano,
Katharine Durran, Piano
2 mins
52

Carey Blyton

Indigo Blues



1¼ mins
53

Encore: The Flea



1 minute
---
Publicity images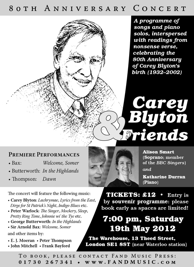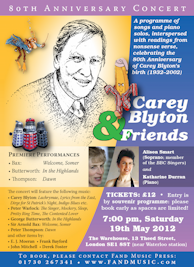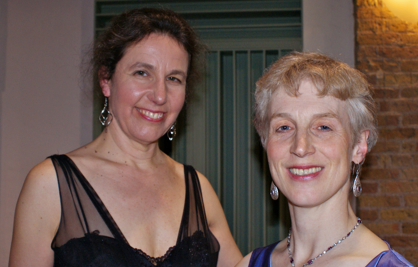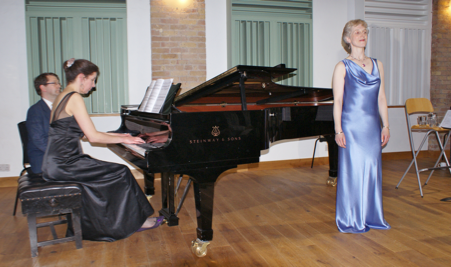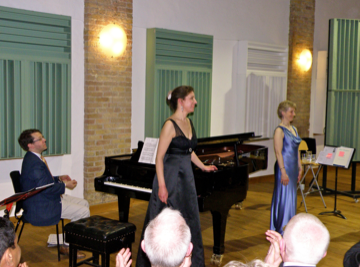 (Click to enlarge)
---
Catalogue code: C20120519 • Published: 8th December 2011
Entry last updated: 25th May 2012