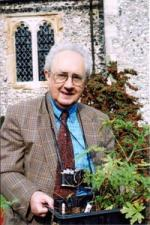 Frank Bayford
[born 1941]
Born in London, Frank Bayford was educated at Enfield Grammar School and then went on to study pharmacy at what is now Portsmouth University. Most of his professional career was spent at Chase Farm Hospital, Enfield, where he was for many years Head of Pharmacy and also Guest Lecturer in pharmaceutics to the medical and nursing staff. He took early retirement from the Health Service in 1988.
He is mainly self-taught as a composer and has written over 100 works, ranging from solo piano pieces to orchestral items. His music is concise and was once described as "not outstaying its welcome," to the delight of the composer. As well as in this country, his work has been performed as far away as Alaska and Austin, Texas in the USA and Lisbon in Portugal.
In 1974, Bayford was instrumental in forming the Compass Composers Association. This organisation gave many first performances of new music from the late 1970s and formed a publishing division, Modus Music, which now has a catalogue of over 300 varied items. In recognition of his support for music locally in Enfield (where he has been a lifelong resident), he was made President of the Enfield String Players in 1993. This well-established orchestra has premièred several of his works.
His interests include history, gardening, Scotland, old churches and photography. Many of his slides form the basis of a series of talks that he gives about places in the British Isles and local history.
---
Composer…
---
Author…
Book
Published
Price
Dispensing Notes


Stepping-Stones towards an Autobiography (with illustrations by the author)




ISBN 978-0-9535125-9-1

4th July 2017
£9.50