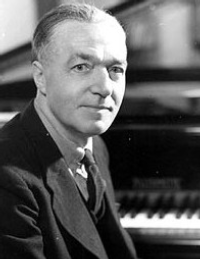 E. J. Moeran
[1894–1950]
Ernest John 'Jack' Moeran was born in Heston, the son of an Irish clergyman. He was educated at home until enrolling at Uppingham School in 1908, where he was encouraged in his study of music by Sir William Sterndale Bennett. After leaving Uppingham in 1913 he studied piano and composition at the Royal College of Music under Sir Charles Villiers Stanford. After the First World War he returned to Uppingham School briefly as a music teacher, but soon went back to the Royal College to resume composition studies, this time under John Ireland.
Moeran was a collector of folksongs from Norfolk (primarily) and Suffolk, liking to sit in country pubs and wait for an elderly gentleman to sing, whereupon he would write down the music. Moeran became great friends with the composer Peter Warlock in the 1920s, and they lived together in Eynsford, Kent, for a few years. After Warlock's death in 1930, Moeran started to investigate his own Irish roots, eventually spending much of his time in Kenmare, County Kerry, where a hotel bar he frequented was named after him.
Moeran was the last major English composer to be greatly influenced by English folksong; he personally collected around 150 of them, wrote many arrangements and wove their melodies and style into his own original music. Irish music also had an increasing influence on his music later in his life.
---
Composer
Work
Grade
Vocal range
Duration
Published
Price

E. J. Moeran


arr. John Mitchell
Lonely Waters


arranged for solo piano




with optional voice part

8 to Advanced (post-Grade 8)
C♯ to D♯'
9½ mins
1st July 2012
£9.95